The feasibility and longevity of the Abraham Accords, along with the future prospects of IMEC are now challenged with the ongoing Israel-Hamas conflict, as the status-quo in the region has changed drastically after October 7 Hamas-led attack in Israel, writes Shubhda Chaudhary
On October 17, while speaking at the 3rd Global Maritime India Summit (GIMS), Prime Minister Modi reiterated the capacity of India for forging a historical consensus at G20 through unveiling of the India Middle East Economic Corridor (IMEC). Calling it a 'catalyst for prosperity' and a rejuvenation of the 'old Silk Route', Prime Minister launched the 'Amrit Kal Vision 2024' – a roadmap for India's maritime blue economy.
He further elucidated that IMEC would entail several new possibilities – creation and expansion of multimodal hubs, inland waterways, island development, mega ports as well as international container trans-shipment ports. The timing of Prime Minister's run aground address on Tuesday coincided with China convening the tenth anniversary of Third Belt and Road Forum for International Cooperation, with the presence of 4,000 world dignitaries and Russian President Vladimir Putin receiving a red carpet welcome.
When the grandiose multi-billion project of IMEC was unveiled on September 8 – at the sideline of India's G20 Presidency– it was perceived primarily as United States' and India's competitive bid against China's Belt and Road Initiative (BRI), along with an attempt to symbolically integrate Israel within the West Asian economy and Gulf region. The Arab-Israeli normalization or the Abraham Accords – mediated by the White House in 2020 – had established diplomatic relations of Israel with UAE, Bahrain, Morocco and Sudan, even at the cost of ignoring the Palestinian question. The feasibility and longevity of these bilateral relations, along with the future prospects of IMEC are now challenged with the ongoing Israel-Hamas conflict, as the status-quo in the region has changed drastically after October 7 Hamas-led attack in Israel. Any form of much-talked about negotiation between Israel and Saudi Arabia, on the lines of Abraham Accords, seems untenable, especially at the cost of 'Palestinian Question.'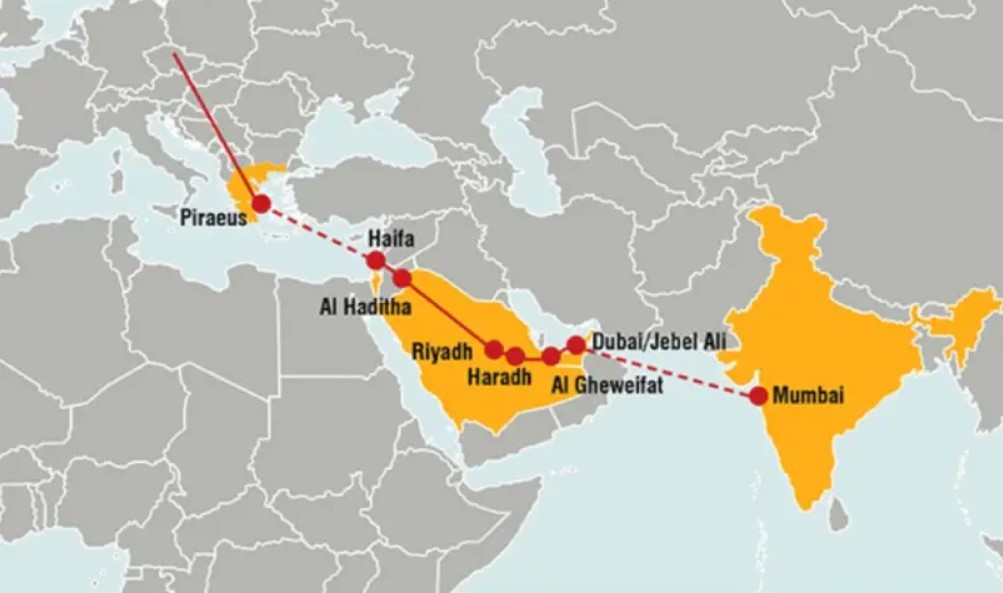 The spillage of Israel-Hamas Conflict on Haifa Port
Gautam Adani-led Adani Ports and SEZ Limited along with Israel's Gadot Group, that had acquired Israel's Haifa port earlier this year for $1.2 billion dollars, faced a sudden drop in their shares on October 16. As Tel Aviv is immersed in ground assault at the Gaza strip, the growing backlog of cargo and ships at Haifa port has increased. Several investors are also concerned if Iran would be dragged into the war, which would also jeopardise the ongoing trade in Strait of Hormuz – as it accounts for 35 per cent of the global oil and gas trade.
In an effort to quell the fears of investors, the company issued a media statement, reading "We have taken measures to ensure safety of our employees and all of them are safe. We remain fully alert and prepared with a business continuity plan that will enable us to respond effectively to any eventuality." Meanwhile, the Republic of the Marshall Islands (RMI) in its ship security advisory has raised the security level for Israeli ports to the highest. The threat of collateral damage to merchant vessels has been raised in Arabian Gulf, Red Sea, Strait of Hormuz and Gulf of Oman.
At the same time, it should be noted that a privately owned port at Haifa Bay – located a few kilometres away from Haifa port – is controlled by China's Shanghai International Port Group under a 25-year contract. This technologically-sophisticated, 5G enhanced and completely automated port could be challenge to India's investment in Haifa port. Yet, Beijing, too, is suffering after its 'balanced' diplomatic stance in the ongoing conflict. It has called Hamas as a "Palestine Resistance Movement' instead of a terrorist organisation, therefore upsetting the White House and Tel Aviv.
"Uncertainty was still high in domestic market despite improved economic data, facing the double whammy of US employment data (driving up interest rates) and Middle East risks," said Xu Wenyu, an analyst at Huatai Futures to Asia Financial. On October 10, the slumping of CSI One Belt & Road Initiative shares by 2% had sent jitters in the stock markets. 8.5% slump was recorded for state-owned China Communications Construction, which had invested $3 billion in West Asia in the past three years. But China's Aerospace CH UAV Company, that sells drones, registered a growth of 6%. But the tremors felt in the Shenzhen and Shanghai stock exchanges cannot be over-ruled, especially those dealing with oil and fertiliser as well as infra-structure related companies. Meanwhile, predicting a forthcoming global recession, Bloomberg Economics has estimated that the oil prices could soar to $150 a barrel and the global growth drop to 1.7%. This recession could take about $1 trillion off from world output.
India's manoeuvring of IMEC amidst the conflict
"The India-Middle East-Europe corridor can complicate regional geopolitics if it involves Israel," Professor Ahmet Uysal, the Director of Middle Eastern Studies Center (ORSAM) in Ankara, had predicted recently.
"It may bring together the countries that are excluded from the project such as Oman, Iraq, Turkey and Egypt. Of course, China will not stay hands tied with a lot of resources and its current advancement in the race. The new trade corridor also has several black spots. One, the competitive power of India is no match with China that has 5 times bigger GDP in 2022. Secondly, who will fund this major project as India do not have enough resources to fund this project like China. Currently the USA and Europeans devoted most of their resources to the Ukraine war. Therefore, they will not be very eager to fund it as indirect benefactors of the project. The alternative source of funding would be the Gulf states, especially Saudi Arabia and UAE," he further added.
"IMEC was predicated on the smooth sailing across the whole route especially through the Middle East. With this Israel-Hamas war, Riyadh has been confronted with the stark reality of the Palestinian issue which has put brakes at least in the short run. Most Arab countries won't be able to defy their street. From India's perspective, the maritime routes are already operating but any escalation of conflict will impact India significantly, let alone the IMEC, which in any case will take a while to materialize," said retired Ambassador Anil Trigunayat, who has served in Indian missions in Cote d'Ivoire, Bangladesh, Mongolia, USA, Russia, Sweden and Nigeria, Libya and Jordan.
In his recent piece in Indian Express, Business Editor Anil Sasi pointed out that "in New Delhi, across some key infrastructure ministries, there is an acknowledgement that the project – spearheaded by the US – was perhaps announced prematurely, well before any implementation details were finalised, or communicated at a country level. Official timelines for the project's completion or details on how it would be funded are not clearly spelt out yet. Clarity on the final alignment of the project is also awaited."
"The promising elements of IMEC notwithstanding, the corridor leaves out several critical regional players, such as Egypt, Turkey, and Iran. Some concerns operating the IMEC may adversely affect the Suez Canal. Erdogan has already said there is no corridor without Turkey. That said, if complementary factors are prioritized over competing factors, this corridor, once it becomes operational, has a lot to offer to all stakeholders. As of now, BRI is the only game in town," said Ehtesham Shahid, Editor at Emirates Policy Center.
Castle in the Air or a Dare to Dream?
During US President Joe Biden's recent visit to Israel and meeting with Prime Minister Benjamin Netanyahu, he assured his support for Israel and stated, "I don't believe you have to be a Jew to be a Zionist, and I am a Zionist." At the same time, his close alignment with right-wing leaders might stir the pot, cause disillusionment and alienation of some progressive leaders in the Democratic Party. As he seeks re-election in 2024 US Presidential Elections, his image in the Arab world as a neutral interlocutor now stands questionable.
Meanwhile, Biden did stress on innovative projects like IMEC which aim at connecting the countries of West Asia and bringing a better future. The administration has submitted a proposal of $106 billion dollars request to Congress for military and humanitarian 'aid' to Israel and Ukraine as well as humanitarian 'assistance' to Gaza.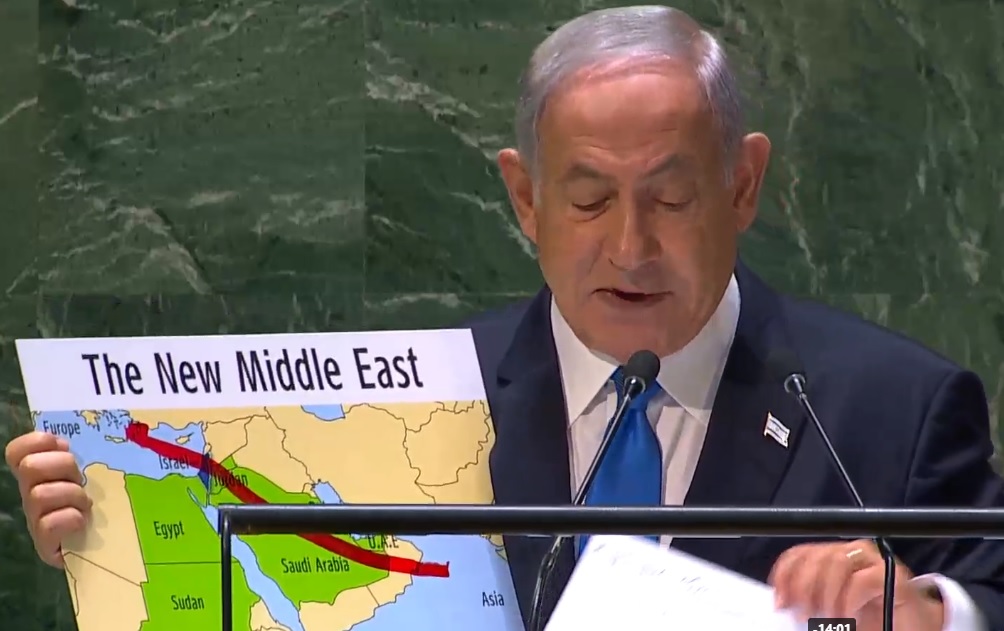 What exactly is IMEC?
IMEC would comprise two corridors: the eastern corridor will connect India to the Arabian Gulf while the northern corridor will connect Arabian Gulf with Europe. Along with laying cables for digital and electrical connectivity, it also aims to create cost-effective ship-to rail transport and pipe for clean hydrogen export. In the next 60 days, the participants are set to meet to expeditiously discuss the nuts and bolts of the corridor, especially the legal, financial, technical, design and regulatory-level standards. The financial cost and the nature of investments still remain in speculation.
"Saudi Arabia's Crown Prince Mohammed bin Salman mentioned a figure of $20 billion during the G20 announcement. It was unclear if that sum applied solely to the Saudi commitment," said Hugh Miles, Founder at Al Shafie Miles and Arab Digest. Additionally, "it is too early to give an estimate of the cost. It will depend on several factors e.g., are the rail tracks perfectly synchronized/aligned or will they need to be changed? Similarly, what capacity electricity/data cables and hydrogen pipelines will be laid. This will depend on the potential size of the market," said Rahul Chhabra, Former Secretary (Economic Relations), Ministry of External Affairs.
What route would IMEC follow?
A shipping route would be created from India's Mumbai port or even the Gujarat Mundra port to UAE's Jebel Ali Port in Dubai or Fujairah port. "I think it's very early to decide these details of ports. Jebel Ali in Dubai, Khalifa Port in Abu Dhabi and Duqum port in Oman are connected to rail plans so they are potentially good points. I think there will be a number of technical discussions since speed and cost are the main elements," said Mohammed Baharoon, Director General at B'huth Dubai Policy Centre.
The goods would be then transported through standardised containers through rail route from Saudi Arabia to Jordan, finally ending at the port of Haifa in Israel. The plan would benefit Adani Group, which has paid $1.2 billion to gain control of the Haifa port in Israel, with a concession period till 2054. On the occasion of 30 years of diplomatic relations between India and Israel, the Israeli PM Benjamin Netanyahu had called this deal an 'enormous milestone.' Meanwhile, it should be noted that China's Shanghai International Port Group, had won a 25-year tender to operate at Port of Eilat, located close to Haifa way back in 2018. This had generated harsh opprobrium from the United States, thereby coaxing Israel to look towards India, rather than chase competitive Chinese bids.
Returning to the functioning of IMEC, the Indian goods would then be transported from the Haifa port to Greece (via shipping route), finally to Italy, France eventually ending at Germany. In 2022, Saudi Arabia's Minister of Transport Saleh bin Nasser Al-Jasser had already proposed the creation of a 5000 km railway line from the Saudi city of al-Qurayyat, located in the province of al-Jawf to the Jordanian borders.
"It should also be noted that a Hejaz railway, constructed in 1908 by the Ottoman Empire, did connect Syria to Saudi Arabia with a branch line to Haifa. In 1917, the railway was attacked by British Army officer T.E. Lawrence during the first World War," said retired Ambassador Zikrur Rahman, Founding Director of the India Arab Cultural Centre. He added that patches of the railway track can be still seen now, and perhaps they can be repaired and remodelled for IMEC.
What is US gain?
"A great deal of analysis points to the notion that this initiative was a way for the US to counter the Chinese belt-and-road initiative. While I think that is true, it is more pertinent to note that the US is diversifying its role in the Middle East, Indian Ocean and Mediterranean. It also wants to invest in infrastructure and not just play a role in being the main security umbrella in the region," said Abdulaziz Alghashian, Lecturer of Politics at University of Essex, UK.
"A chief reason is to ensure the US is integrating India with nations to its west. With the most direct land routes from India to Europe having to traverse Pakistan and Afghanistan, the economic integration we'd all like to see is stymied by geography. Dedicated shipping channels could help quite a bit," said Rick Rossow, Senior Fellow/ Wadhwani Chair in U.S. India Policy Studies at the Center for Strategic and International Studies in Washington, DC.
"Saudi Arabia and India clearly seem interested, and the US likes it because it takes attention away from China's BRI. But I have no idea if such grand schemes are practical or can succeed. For a long time, there has been a proposal to build the Kra Canal in Southern Thailand and Malaysia, which would hurt Singapore. But despite many conversations and proposals, nothing ever came about, even though it included allied countries and what was a small project. Singapore did lobby against it, but not sure if that's the sole reason it did not take off," said Salil Tripathi, Senior Adviser – Global Issues, Institute for Human Rights and Business.