Saeeda Baloch, in an interview with Rahul Kumar, says the UN considers enforced disappearances a criminal offence, but when it comes to the situation in Balochistan, it appears to turn a blind eye to the facts….reports Asian Lite News
The rise in the number of 'enforced disappearances' of Baloch students and men has forced women in Pakistan's high conflict zone to step into the nationalist movement. Many have slipped into the role as freedom fighters after their brothers and other male members were abducted by Pakistani security forces.
India Narrative speaks with one such woman Saeeda Baloch who is grappling with numerous personal tragedies in her life—the daylight murder of husband Faisal Mengal and the enforced disappearances of brother Zahoor Ahmed and nephew Sajjad Ali.
Despite the murder and the kidnappings of close family members, Saeeda has turned her life towards uplifting the impoverished Baloch society, which has been driven poor by Pakistan's policies of human rights violations, ethnic discrimination and natural resource exploitation.
What prompted you to join the campaign for Enforced Disappearances?
SB: I have been involved with this issue since 2006. It was in 2007 that we established a camp to bring attention to these injustices in the media. Even children as young as ten years old participated in this protest for the rights of the forcibly disappeared by Pakistan's law enforcement agencies. The camp was set up in front of the press club in Quetta, Balochistan.
Despite the access to the media, it was prevented from reporting on our campaign.
Moreover, we faced threats as we conducted a token hunger strike. This experience made me realise the extent to which the Baloch are neglected and without a voice.
My husband, Faisal Mengal, began working as a political assistant on the desk for Balochistan and Sindh at the US consulate in Karachi in 2009. As part of his job, he began investigating the cases of missing Baloch individuals. Despite being threatened twice to stop his work, Faisal refused to back down. We thought the threats were being given due to his job at the US consulate. Under family pressure, especially from his mother, Faisal resigned and joined Hanns Seidel HSF—a German organisation.
Tragically, he was assassinated on the morning of 10 December 2011 in the Karachi red zone near the Chief Minister's house. Shockingly, all evidence was removed within three hours, with the authorities claiming that CCTV cameras were out of order.
This tragedy only fuelled my desire to speak out about this issue, as my brother and nephew too had been forcibly disappeared. Despite efforts through legal and other means to bring them home, there is no news about their whereabouts.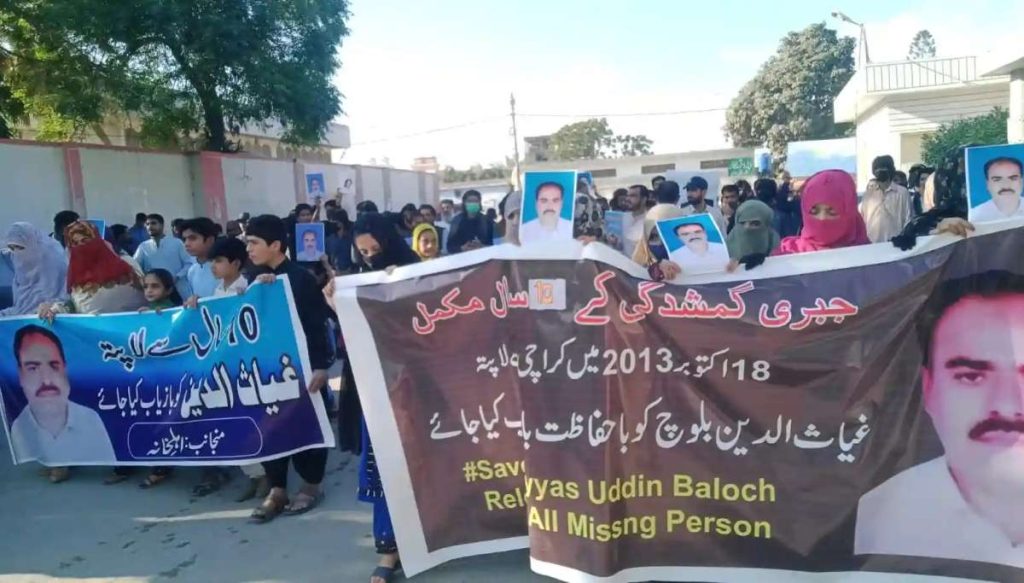 With so much tragedy in your personal life, how do you manage to carry on the campaign against enforced disappearances and also carry out humanitarian work?
SB: My husband's assassination for his work on the missing people in Balochistan only strengthened my resolve to stand with families who are searching for their missing children and support mothers who are suffering in the absence of their children.
I have been presenting papers and running campaigns on social media and through WhatsApp groups to raise awareness about the situation in Balochistan. I have also been participating in protests. In addition to my work on human rights and sustainable change, I am currently focused on improving the education system in Balochistan by advocating for curriculum and policy reform.
Despite the challenges and threats I face, the strength and determination of these mothers inspires me to continue my efforts for a better future.
How do 'enforced disappearances' impact a family psychologically and financially whose members have been abducted?
SB: As I am related to victims of enforced disappearances, I can speak from experience. When a loved one is forcibly taken away, it is not just those who disappear, but the family is also torn apart and suffers a psychological disappearance as well. We are left with feelings of helplessness and fear as we do not know the fate of our loved ones—whether they are being treated well or not. The State, which is supposed to provide us with safety, protection, and dignity, fails us in our time of need.
My mother, who is 67 years old, has not turned on a fan or heater since her son was abducted. Some families who were financially dependent on the person who were forcibly kidnapped now are struggling to make ends meet without any means of income or male members to take their place.
We held a sit-in protest in the red zone of Quetta for 50 days to demand the return of the disappeared, an end to fake encounters by the State, and a fair trial for the missing persons in an open court. Some families travelled from far and begged at mosques to be able to participate in the protest. We will not stop fighting until our loved ones are returned to us and justice is served.
Can you highlight the role of Baloch women who are at the forefront in highlighting cases of abductions, torture and killings of their family members?
SB: In Balochistan, enforced disappearances have brought women to the forefront. Initially, male family members took the lead in advocating for their abducted children, but many of them were threatened or even abducted. This has led to more women—mothers, sisters, wives, and daughters, becoming the voices of their voiceless relatives.
One such woman is Sammi Deen Muhammad Baloch, daughter of Dr Deen Muhammad Baloch, who has been campaigning for her father's safe return since his abduction by officials from his workplace in Ohrnach, Balochistan, in 2009. Pakistani officials have told Sammi that her father was abducted by India's intelligence agency, RAW, as he was working for them.
Zakir Majeed, a member of the Baloch Student Organization (BSO), has been missing since June 8, 2009, and there is no information about his whereabouts. Saeed Ahmed, a police officer, was abducted on his way home from Quetta to Mastung. His mother has been seeking his safe recovery since 2012.
There are thousands of stories like these.
Mothers are struggling to find their forcibly disappeared children or those who have been killed and discarded. These mothers, including myself, have faced Joint Investigation Team (JIT) meetings where we are asked to provide information about the whereabouts of their children who have been forcibly disappeared by intelligence agencies including the Counter-Terrorism Department (CTD).
Besides this, these women have to take on the financial burden of their families by working as housemaids and producing handmade embroideries. The government has established a commission for missing persons to give the appearance that they are willing to listen to the families of the disappeared.
However, the reality is that such families are often harassed during these hearings, with the same questions being repeated and efforts being made to discourage their attendance. I have urged families to remain present at these hearings and not give the authorities an excuse to claim that we are not participating. In 95 per cent of the cases it is the female members of the family who take the lead in pursuing these cases.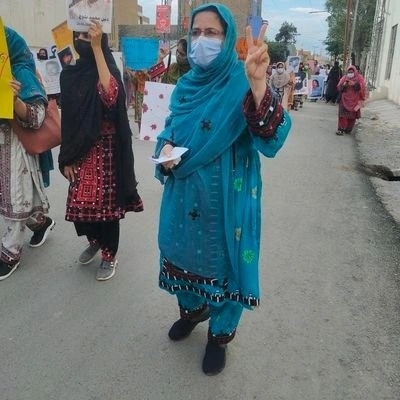 What effect do such kidnappings have on society considering that extremely large numbers of people have been abducted by the Pakistani military and spy agencies?
SB: Abductions committed by government agencies lead to hatred towards those agencies. I witnessed the kidnapping of my nephew by officials in uniforms from my home. This experience made me feel as if I am not protected by the State and do not have the basic rights of self-respect and protection of life.
Similar incidents had occurred in Bangladesh where the Pakistani military believed that fear would prevent such actions. However, this resulted in the division of the country and led to empowerment of the people to speak out against enforced disappearances.
The social and psychological effects of these actions are severe, particularly for families waiting for their loved ones to return. This has led to increased frustration and anger towards the system and those involved in the crimes.
Even the UN considers enforced disappearances as a criminal offence. So, how is it that Pakistan has escaped sanctions by the UN and human rights bodies over enforced disappearances of minorities and ethnic groups?
SB: The UN considers enforced disappearances a criminal offence, but when it comes to the situation in Balochistan, it appears to turn a blind eye to the facts.
In Balochistan, mass graves containing more than 150 bodies have been found and a report was submitted.
Footage has been discovered at Nishtar Hospital showing bodies with clear indications that they were Baloch based on their clothing.
In addition, the lack of clean drinking water has caused many deaths in Pir Koh, where the government is earning millions of dollars from the same district.
Nine innocent forcibly disappeared Baloch were killed in a fake encounter in Ziarat, with horrifying images released and government agencies attempting to portray the victims as militants. All the bodies were malnourished and had the same haircuts and beard sizes.
Despite all this the UN has not taken any action. It is unclear why they have not sent a fact-finding committee to Balochistan to collect information, meet the affected families, and address extreme human rights abuses. These examples are from one year alone.
On Twitter we see UN agencies being tagged to amplify our voices, but in reality, our women were dragged on the road by their hair and taken to police stations without formal charges being filed.
However, there was no coverage by the national or international media. There were no humanitarian organisations to support us. We have submitted petitions to the UN about our missing loved ones, but there has been no response. The silence of UN agencies raises serious questions about their role.
Only sanctions can force Pakistani agencies to change their behaviour towards the Baloch.
(India Narrative)