Dubai marks start of 2023-2024 cruise season with first luxury liner docking at Mina Rashid….reports Asian Lite News
Dubai's new cruise season marked its launch on 28th October 2023 with the arrival of the luxury liner Mein Schiff 2. The vessel docked at the Hamdan bin Mohammed Cruise Terminal at Mina Rashid, marking the start of yet another exciting period for cruise enthusiasts.
Dubai, which attracts international visitors all year round with its incomparable hospitality and host of world-class attractions, anticipates visits by up to 150 cruise ships this upcoming season, reinforcing its standing as a premier global cruise destination. Travellers arriving on cruise liners at Mina Rashid and Dubai Harbour will get to enjoy an array of diverse experiences and top-notch services, as always. The Mein Schiff 2's arrival on 28 October is the first port call in Dubai this cruise season. Dubai will also host the Resilient Lady Ship operated by Virgin Voyages for the first time, with the vessel set to embark on two routes from the city this season.
Dubai has been a significant player in the Cruise Arabia alliance, working closely with the latter for more interconnected and integrated regional cruise services. Comprising of key ports in the region, including Abu Dhabi, Bahrain and Oman, the alliance strives to promote the region as a cruise ship destination globally.
Dubai continues to attract major cruise operators, with MSC Cruises, TUI Cruises, Aida Cruises, Costa Cruises and Ponant Cruises among others considering it port of home. Additionally, Dubai will host away port calls by renowned cruise lines such as Cunard, P&O Cruises, Princess Cruises, Royal Caribbean Cruise Lines, Celebrity Cruises, Norwegian Cruises, Silversea Cruises, and Cordelia Cruises, to name a few.
Standout success
The cruise shipping industry in Dubai has achieved notable success in recent years, cementing its position as a global leader. Mina Rashid was recognised as the Middle East's Leading Cruise Port during the World Travel Awards for 2023. Dubai Harbour had earlier been ranked the World's Best New Cruise Development during the 1st Annual World Cruise Awards 2021. These accolades further highlight Dubai's growing popularity as a cruise destination. Sustainability is a key focus for Dubai as a cruise destination. The city welcomes environmentally conscious cruise liners such as the MSC World Europa, which are powered by LNG, and the Costa Toscana, which boasts new LNG propulsion engines, for increasingly sustainable travel, highlighting Dubai's commitment to environmental responsibility.
Issam Kazim, CEO of Dubai Corporation for Tourism and Commerce Marketing, said: "The new cruise season will further reinforce Dubai's position as a leading cruise destination in line with the Dubai Economic Agenda, D33, launched by His Highness Sheikh Mohammed bin Rashid Al Maktoum, Vice President and Prime Minister of UAE and Ruler of Dubai, to further consolidate Dubai's status as one of the world's top three cities for business and leisure.
"The growth of our cruise industry is a testament to the continuous support and collaboration of our valued stakeholders and partners, resulting in more cruise operators seeking to anchor in the city and capitalising on its diverse offerings, world-class infrastructure, superior air and sea connectivity, and its prime location between East and West. We anticipate another successful season with the arrival of Mein Schiff 2, marking a significant step in our efforts to promote Dubai as the cruise hub of the region."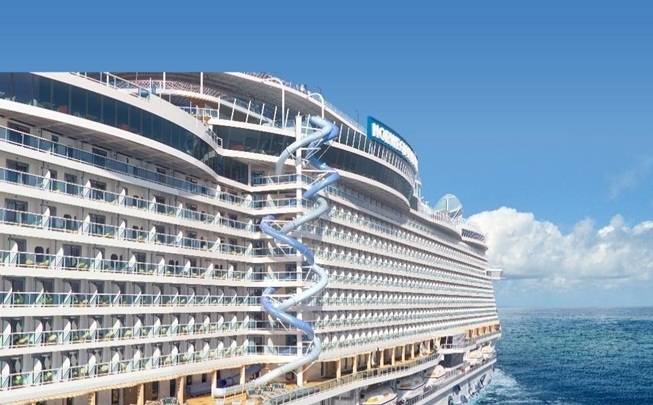 Abdulla Binhabtoor, Chief Portfolio Management Officer, Shamal Holding, the owner and curator of Dubai Harbour, said: "The 2022/23 season confirmed the encouraging momentum for growth and development in the cruise sector, proving that Dubai's maritime industry is well placed to support a new era of tourism for the city. Dubai Harbour Cruise Terminal welcomed 300,000 passengers this past cruise season, roughly four times the numbers from our debut season, with a 40% increase in ship calls. For 2023/24, we are encouraged by the number of bigger vessels operated by renowned companies coming to Dubai Harbour Cruise Terminal and, as the region's largest cruise terminal, and we are looking forward to actively contributing to the region's fast growing and dynamic maritime offering and providing an extraordinary experience for all our passengers."
Hamza Mustafa, Chief Operating Officer, DP World, said: "We look forward to welcoming travellers from around the world to our state-of-the-art cruise terminals for the 2023-2024 season. Our investment in terminal facilities at Mina Rashid underlines our commitment to supporting the sustainable growth of cruise tourism in Dubai and providing an exceptional experience to passengers from the moment they dock at our shores. Dubai has become a major port of embarkation and a popular call for cruise lines in the Middle East and the Arabian Gulf, and we expect to record another strong season, with 28% more visitors forecasted in comparison to 2022-2023."
Dubai's appeal as a cruise destination extends beyond its beautiful ports. The city boasts world-class terminal facilities, capable of handling the largest international cruise vessels. It enjoys a strategic location as the gateway to the region, connected by DXB (Dubai International Airport) and two cruise terminals. Dubai continues to invest in cruise terminal infrastructure, ensuring hassle-free entry procedures and providing seamless visa facilities for cruise ship passengers. Luxury vessels from eight renowned cruise lines dock in Dubai, bringing along diverse groups of travellers from around the world.
Major cruise terminals
Exceptional service at every point bolsters Dubai's reputation as a cruise hub, building on its draw as a year-round destination with a vibrant social calendar dotted with thrilling events. The city ensures a seamless experience for all travellers with two major terminals for cruise ships – Mina Rashid, capable of accommodating up to seven cruise ships simultaneously and Dubai Harbour, an extraordinary seafront district that boasts one of the most advanced cruise terminals in the region, which is also the largest in the eastern hemisphere, capable of accommodating even the largest cruise ships.
Mina Rashid, a globally acclaimed cruise destination, is home to Port Rashid Marina, offering a range of dining, shopping, and entertainment options. The terminal has been recognised as the Middle East's Leading Cruise Port on multiple occasions. Mina Rashid offers a smooth, efficient, and opulent travel experience, setting the benchmark for international peers.
Dubai Harbour, inaugurated in 2021, is a state-of-the-art cruise terminal that was also the first to host a brand-new LNG powered ship. Located at the intersection of the iconic Palm Jumeirah and Bluewaters Island, Dubai Harbour provides a host of comprehensive berthing facilities alongside a wide range of shopping, dining, and leisure options. A wide range of luxury yacht marinas and world-class maritime transportation facilities add to its charm, providing cruise tourists with a world-class experience from the moment they disembark in Dubai.