Danube Properties expands its portfolio with two new major projects, Sportz and Eleganz, featuring both off-plan and ready-to-move-in properties. Sportz is set to boast the highest number of sports amenities in any residential building across the Middle East…reports Asian Lite News
Danube Properties is entering the realm of ready-to-move-in properties, offering investors and home buyers an opportunity to capitalize on elevated returns with minimal initial payments, all while enjoying a sophisticated lifestyle. During a Dubai event, Danube Properties introduced Sportz, an elegant 39-floor tower featuring 1,100 apartments in Dubai Sports City. Additionally, they unveiled their inaugural ready-to-move-in project, Eleganz, which will present 259 stylish and refined apartments and townhouses in the Jumeirah Village Circle.
Sportz is the 27th project announced by the developer since entering the real estate market in June 2014, and the 12th project to be unveiled in the last 22 months. The announcement came after completely selling out two out of three towers of the Oceanz project, announced in September this year. Sportz is Danube Properties' 7th project so far this year.
Dubai Fitness Month, championed by His Highness Sheikh Hamdan bin Mohammed Al Maktoum, encourages Dubai residents to prioritize their health and well-being. Fazza's vision to create a fitness-focused community, motivating people to lead active, healthy lives, and fostering a culture of wellness and vitality in the city, is one of the key reasons for nudging Danube Properties to build a community like Sportz.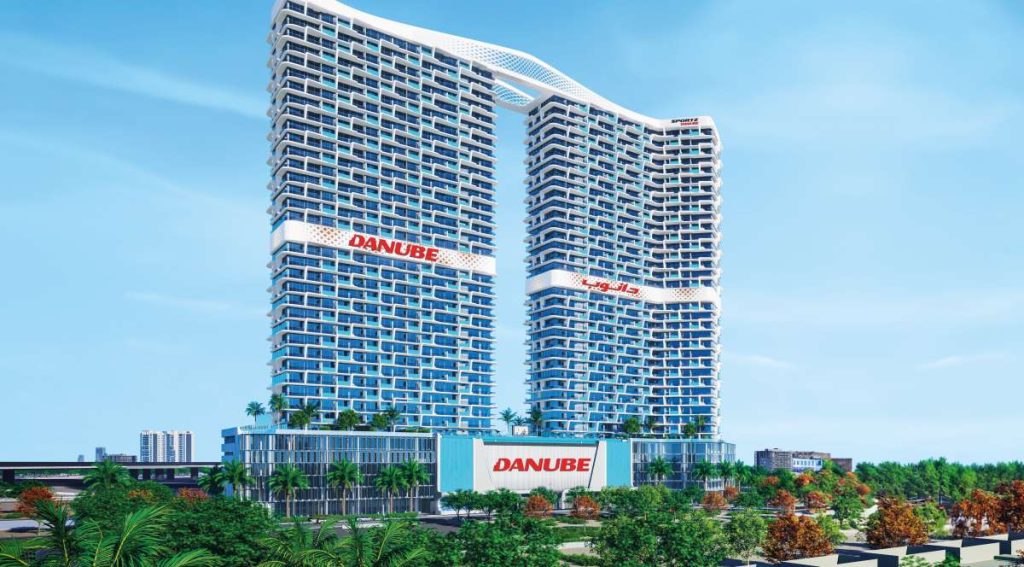 Sportz by Danube sets a new benchmark in real estate projects with unrivaled sports amenities; featuring an Olympic-sized lap pool, trampoline area, table tennis, wall climbing, and a sky jogging track, it offers an unmatched recreational experience. In addition to this, Sportz will also offer mentoring and coaching as one of the amenities. This project will exemplify Danube Properties' commitment to an active, vibrant lifestyle for the residents of Dubai.
At Eleganz, customers can book the property by making a 40% down payment and paying the rest 1% monthly. They can start generating a guaranteed 6% ROI from the fully-furnished properties, almost instantly. This is Danube Properties' first ready-to-move-in project to be put on the market.
With these two new projects, Danube Properties' project portfolio will stand at 14,888 units spread across 27 projects, with a combined development value exceeding Dh 15.47 billion so far.
"The twin launches reflect a strong commitment of Danube Properties to the UAE economy, which is one of the fastest-growing economies in the region," Rizwan Sajan, Founder and Chairman of Danube Group, said. "Real estate is still one of the most lucrative and sustainable asset classes for investors who want to make the best use of the asset that offers a high return on investment."
"With Eleganz, we tested the ready-to-move-in market segment while all other projects have been on the off-line market. This reflects our ability to build and deliver projects with our financial resources and makes Danube Properties one of the most sustainable developers in this part of the world."
All Danube Properties' homes come with a trend-setting 1 percent monthly payment plan and 40+ amenities, following the initial deposits – making home acquisition and possession more affordable and attractive.
In addition to launching projects and building them, Danube Properties will also deliver two projects this year including Jewelz, and Olivz. Also, most of the projects launched in 2022 and 2023 are ahead of the construction and delivery schedule.
"Homes at Sportz will take lifestyle to a completely new level with state-of-the-art Sports amenities like never before that will offer a luxury and larger-than-life lifestyle to homeowners who will be pampered with the best of the best that is available in the market," Rizwan Sajan says.
Apartments within Sportz and Eleganz will be smart and sustainable homes and will consume less energy – in line with the UAE's commitment to sustainability ahead of COP28. Danube Properties offers an instant initial sale contract on-site and also a 10-year Golden Visa – especially for those who qualify as per the investment criteria – subject to government approval.
As one of the most successful developers in the UAE with the highest launch-to-delivery ratio, Danube Properties has delivered Bayz, Glamz, Starz, Resortz, Elz, Lawnz, and Wavez while it prepares to deliver two more projects this year. All these projects have been greatly appreciated by those who have bought units in them.
Danube Properties Dubai is a leading property developer in the UAE. With timely delivery and unparalleled quality, Danube Properties has become synonymous with owning a home in Dubai.
Danube Properties is a part of the Danube Group, which has been responsible for building the foundation of Dubai since 1993. Danube Properties made its foray into the real estate market in June 2014. Since then, it continued to expand its development portfolio by launching Glitz Residence 1, 2, 3, Starz, Glamz, Miraclz, Resortz, Bayz, Jewelz, Elz, Lawnz, Wavez, Olivz, Skyz, Pearlz, Gemz, Opalz, Petalz, Elitz 1, Viewz, Fashionz, Elitz 2, Elitz 3, and Oceanz projects. The company has a development portfolio of 13,529 units, with a combined value exceeding Dh 10 billion.