The government said the industry is expected to continue to grow and adopt sustainable practices, promoting a cleaner, more efficient, and prosperous aviation industry in India…reports Asian Lite News
India's aviation industry has experienced significant growth in the past nine years under the Prime Minister Narendra Modi-led government and the number of operational airports in the country has doubled from 74 in 2014 to 148 in 2023.
The government argues this growth can be attributed to the government's consistent efforts to improve overall airports and aviation infrastructure. One such initiative is the Regional Connectivity Scheme – Ude Desh ka Aam Nagrik (RCS-UDAN), under which 469 routes connecting 74 airports have been made operational, providing affordable air travel options for millions of Indians.
The UDAN scheme has recently completed five years.
The scheme was initiated in October 2016 with the objective of fulfilling the aspirations of the common citizen, with an enhanced aviation infrastructure and air connectivity in tier II and tier III cities.
The government has approved the 'Revival of unserved and under-served airports' scheme for the revival and development of 100 unserved and under-served airports, helipads and water aerodromes by 2024. It is an ongoing scheme where bidding rounds are conducted occasionally to cover more destinations or stations and routes.
Additionally, the increase in airports has been accompanied by continuous efforts towards sustainability, according to the government.
The Airports Authority of India (AAI) has developed a roadmap to achieve 100 per cent renewable energy for all its remaining operational airports by 2024, demonstrating a commitment to sustainable practices.
The government said the industry is expected to continue to grow and adopt sustainable practices, promoting a cleaner, more efficient, and prosperous aviation industry in India.
The expansion could cost more than $60 billion, with the private sector expected to foot most of the bill. To lure investment, the government hopes to implement policies to ensure that private investors can recover their money and earn solid returns.
"Ultimately, India should have 150 to 200 airports … [in] the next 15 to 20 years," Jayant Sinha, India's state minister of civil aviation, said.
"In the next 12 months, we will have over 131 active airports," Sinha said, a number that includes airports already under construction.
A soon-to-open facility in the state of Sikkim offers an example of how connectivity stands to improve. The state, which shares borders with China, Nepal and Bhutan, has never had an airport. Travelers to the capital of Gangtok had to endure a bumpy, four-hour-plus ride from the nearest airport in Bagdogra, in neighboring West Bengal.
Now, the newly constructed Pakyong airport, near Gangtok, is scheduled to open in June. This will connect the airport in Kolkata, West Bengal's capital, with 70-minute flights.
According to the Ministry of Civil Aviation, the number of domestic and international passengers totaled more than 139 million in 2017, a 17% increase over 2016. The number of domestic passengers, who account for more than 80% of the total, has seen double-digit growth for the 42nd consecutive month, dating back to September 2014.
"India posted the fastest domestic passenger growth in 2017 for the third year in a row, followed by China and Russia," said the International Air Transport Association.
The surge in passengers is largely attributable to heated competition among airlines, which has brought down fares.
In mid-2014, only seven airlines were flying domestically. By mid-2016, the number was up to 12. The Ministry of Civil Aviation said the average airfare fell 18% in 2016, from the year before.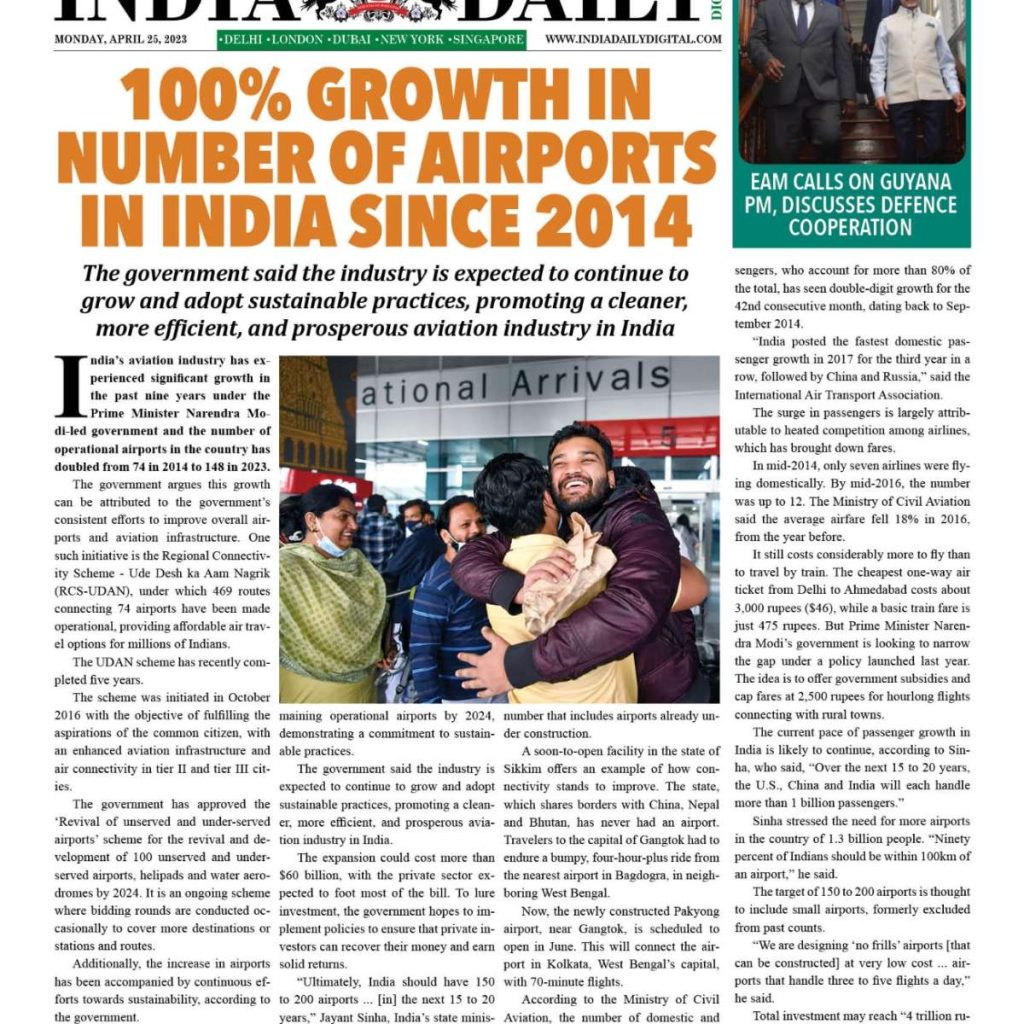 It still costs considerably more to fly than to travel by train. The cheapest one-way air ticket from Delhi to Ahmedabad costs about 3,000 rupees ($46), while a basic train fare is just 475 rupees. But Prime Minister Narendra Modi's government is looking to narrow the gap under a policy launched last year. The idea is to offer government subsidies and cap fares at 2,500 rupees for hourlong flights connecting with rural towns.
The current pace of passenger growth in India is likely to continue, according to Sinha, who said, "Over the next 15 to 20 years, the U.S., China and India will each handle more than 1 billion passengers."
Sinha stressed the need for more airports in the country of 1.3 billion people. "Ninety percent of Indians should be within 100km of an airport," he said.
The target of 150 to 200 airports is thought to include small airports, formerly excluded from past counts.
"We are designing 'no frills' airports [that can be constructed] at very low cost … airports that handle three to five flights a day," he said.
Total investment may reach "4 trillion rupees ($61 billion)," according to Sinha. This is 60 times more than the ministry's fiscal 2018 budget.