A huge number of fans thronged to Srinagar's only multiplex theatre to watch Bollywood 'Badshah' Shah Rukh Khan and Deepika Padukone-starrer 'Pathaan' for the first time since the 90s…reports Asian Lite News
Bollywood superstar Shah Rukh Khan's latest release "Pathaan" is emerging as an unstoppable force at the global box office. The film, directed by Siddharth Raaj Anand, has earned Rs 429 crore gross worldwide in four days.

The film collected another Rs 100 crore day on its fourth day, as it registered Rs 53.25 crore net in India (in Hindi and all dubbed versions).

The overseas gross recorded up till the fourth day adds up to Rs 164 crore, according to trade analysts.

"Pathaan" crossed the Rs 200-crore net mark in India in just four days, with a Rs 265-crore gross collection up on the board. Four days is the shortest time for a Hindi film to enter the Rs 200 crore club.

"Pathaan" has also become the only Hindi film to register three Rs 50-crore days. Now, as a result, all films in YRF's Spy Universe — "Ek Tha Tiger", "Tiger Zinda Hai", "War", and "Pathaan" — are blockbusters.
'Pathaan' effect in Kashmir
This is the first time since the 90s that such a crowd has thronged cinemas to watch a film in Kashmir. In fact, in the early 90s, cinemas were closed in Kashmir due to increased militancy and only a few months ago, Jammu and Kashmir Lt. Governor Manoj Sinha inaugurated a multiplex cinema in Srinagar.
A huge number of fans thronged to Srinagar's only multiplex theatre to watch Bollywood 'Badshah' Shah Rukh Khan and Deepika Padukone-starrer 'Pathaan' for the first time since the 90s.
The relationship between Bollywood and Kashmir was established when Raj Kapoor shot some parts of his film 'Barsaat' in Kashmir in 1949 and brought its beauty to a wide circle, after which the Kashmir Valley became the focus of attention of many film producers.
Countless Bollywood films, including Shammi Kapoor's 'Kashmir Ki Kali', Shashi Kapoor's 'Jab Jab Phool Khile', Rishi Kapoor's 'Bobby' were shot in Kashmir. The songs of these films shot in Kashmir are still in the favourite list of many people.
Not only this, there are many places in Kashmir, which are known by movie names or characters, such as the landmark 'Bobby Hut' in Gulmarg, where a song from the superhit Bollywood film "Bobby" was filmed, or the landmark in Pahalgam. "Betaab Valley" where the movie 'Betaab' was shot.
This beautiful relationship between Kashmir and Bollywood lasted until Vidhu Vinod Chopra's film 'Khamoosh' in 1985, after which the unfortunate circumstances almost broke this relationship. What happened in Kashmir during this time is not hidden from anyone, but in the year 2000, after a long time, Bollywood was seen returning to Kashmir when films like 'Mission Kashmir' and 'Haider' were shot in Kashmir. This relationship was also unique because this time the subject of these films was not the beauty of Kashmir but Kashmir itself.
It is worth noting that while the Lt. Governor's administration opened new seminar houses for the return of seminars in the Kashmir Valley, it also announced a new film policy to make Kashmir the centre of Bollywood.
Under this policy framed in the year 2021, in an effort to facilitate shooting in the Kashmir Valley, a single-window mechanism was introduced to facilitate obtaining permission for shooting.
After these steps of the government, where all eyes were focused on whether people will turn to the Simna houses or not. As soon as the same movie 'Pathaan' was released in Srinagar, a crowd of fans was seen at the only theatre in Srinagar.
On this occasion, Shah Rukh Khan's fans appreciated the film a lot. Meanwhile, the multiplex owner told mediapersons that the first four shows of the film have been booked in advance. Vikas Dhar, owner of multiplex "Inox", while talking to mediapersons said, "Shah Rukh Khan's movie is being screened for the first time in Srinagar's cinema and the response from Shah Rukh Khan's fans is appreciable."
"During the movie, as soon as Shah Rukh Khan entered the big screen, the fans were expressing their feelings by clapping and whistling," he said.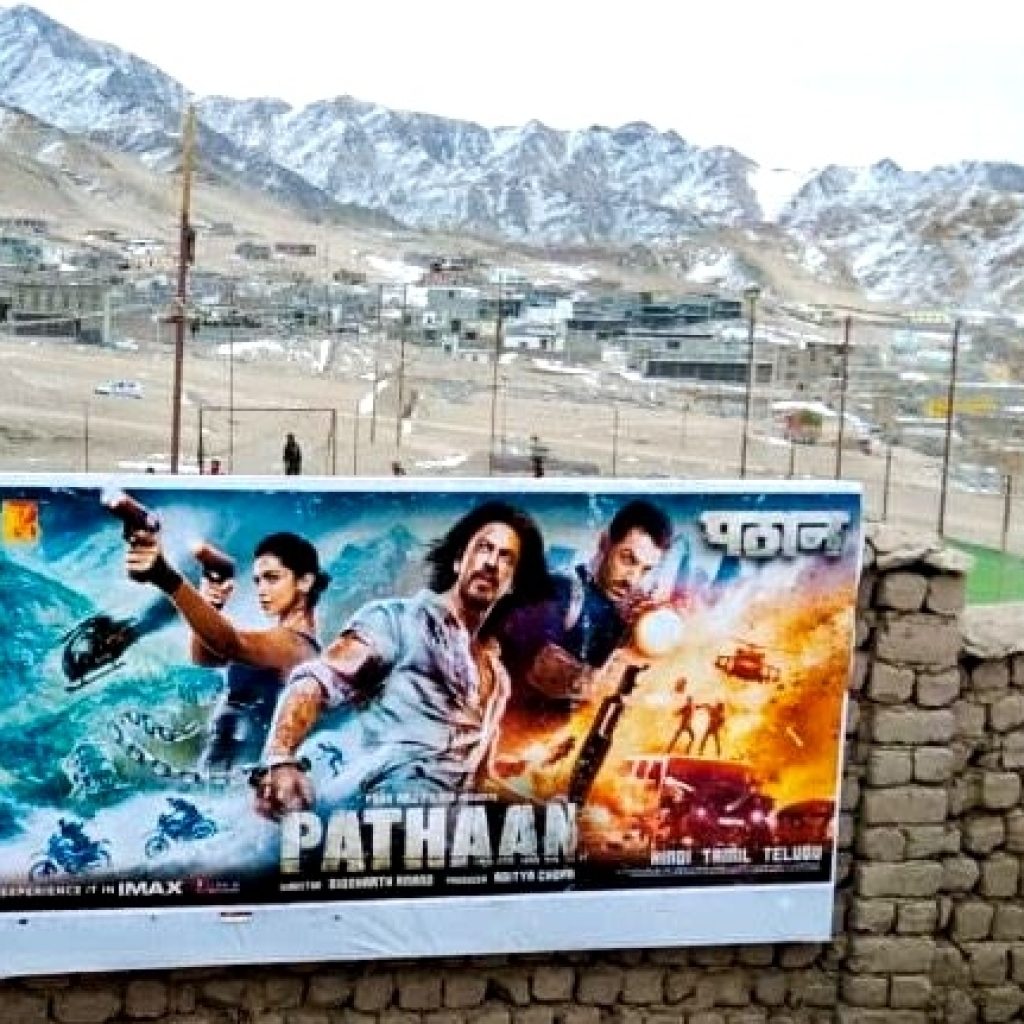 Dhar hailed the growing trend towards cinema in Srinagar, especially the youth turning towards cinemas.
"The turning of the youth towards cinemas is also a source of satisfaction for us. Releasing 'Pathaan' movie in Srinagar is proving to be a good decision. Advance booking is going on and more people are expected to arrive in the coming days."
It is worth noting that the movie 'Pathaan' is making a lot of money in theatres despite the appeal of the saffron organisations to boycott the movie.
ALSO READ-SRK's mass comeback in espionage thriller 'Pathaan'