Speaking on the new campaign, Manoj Gadgil, Vice President, Marketing and Essential Health BU Head, Johnson & Johnson Consumer Health said, "Stayfree has always celebrated the spirit and strength of young women…reports Asian Lite News
Stayfree®, a women's menstrual hygiene brand today named Bollywood's superstar and popular youth icon Kiara Advani, as its brand ambassador, and the face of its latest campaign for Stayfree Secure XL pads.
Kiara Advani represents the ethos and principles of the brand and reflects the women of modern India.
In its latest marketing campaign designed by DDB Mudra for Stayfree Secure XL, Kiara represents the hustle and can-do spirit of women entrepreneurs who are confident with ambitions, who need day-long protection and comfort, making Stayfree Secure XL with its 12 hours leakage protection her preferred choice.
Kiara Advani said, "Modern women today are unstoppable and I truly believe nothing could bog down the spirit, determination, and courage of today's woman. I am glad to become the new face of Stayfree and represent this iconic brand that strives to help millions of young girls and women fulfill their aspirations, free from the fear, shame, and discomfort associated with periods. Stayfree Secure XL offers comfort and long-lasting protection for up to 12 hours enabling women to live their lives to the fullest potential, without letting anything come between their dreams. I am proud to be a part of this empowering campaign that celebrates the can-do spirit of young women."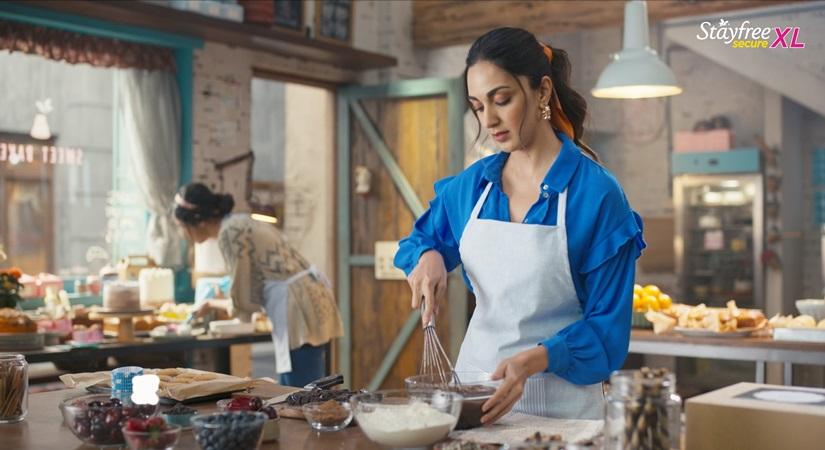 Speaking on the new campaign, Manoj Gadgil, Vice President, Marketing and Essential Health BU Head, Johnson & Johnson Consumer Health said, "Stayfree has always celebrated the spirit and strength of young women. With Stayfree XL's latest campaign 'Din tumhare saath chalega', the brand empowers women to fulfil their dreams and aspirations by leading life on their terms, so their day marches to its beat. We are delighted to onboard Kiara Advani as part of the Stayfree family. She represents the aspirational young women of today's generation. Through our association with Kiara Advani, we aim to accelerate the brand's mission of empowering women to seize every moment, pursue their dreams, and not miss on any opportunity, even during their periods."
Rahul Mathew, Chief Creative Officer, DDB Mudra Group, said, "We've all heard the adage – too much to do, too little time. There's no generation that's felt it more than the youth of today. Stayfree believes that every girl should have total control over their time and what they want to do with it… even when she's on her period. In Kiara, we have the perfect person to deliver this message. She too does it all and is someone that girls of today look up to."
ALSO READ-'OTT and theatrical releases are completely different experiences'