You can never go wrong when vacationing in the Indian Himalayas. Situated near Rishikesh, Ananda in the Himalayas is one of the most luxurious and best resorts in India. It is also a leading yoga retreat in India…reports Asian Lite News
India is strewn with natural beauty and historical masterpieces across the length and breadth of it. Stretching from the mighty peaks of the Himalayas in the north to the tropical beaches in the south, India's expansive borders encompass an incredible range of contrasts, landscapes, cultures, and religions.

Wise people across generations have vouched that the best way to experience a journey is to hop on a train or go for long car rides. A few kilometres may lead you to the foothills, mighty plains of the north that are rich, enigmatic, and full of stories. Here are some royal, luxurious hotels lying in the route from Kashmir to Kanyakumari that might give you an experience rooted with the local culture and surrounding areas for travellers to explore with partners, friends, and extended family.

The Lalit Grand Palace Srinagar

Built by Maharaja Pratap Singh in 1910, The Lalit Grand Palace was once a royal residence. Its landmark chinar tree is where Mahatma Gandhi met with Maharaja Hari Singh during India's Partition. Besides views of the Dal, the 113-room palace offers a temperature-controlled pool, a spa, two restaurants and a bar. There are butlers on call and a 24×7 concierge service that can plan a wazwan meal at the hotel as well as other experiences in the valley.


Ananda Resort, Himalaya

You can never go wrong when vacationing in the Indian Himalayas. Situated near Rishikesh, Ananda in the Himalayas is one of the most luxurious and best resorts in India. It is also a leading yoga retreat in India. Ananda in the Himalayas is big on nature and it can be seen in their stay facility. Everything is designed to fit with their nature theme.

The Oberoi Sukhvilas, New Chandigarh

The Oberoi Sukhvilas Spa Resort boasts views-to-kill-for and lavish accommodations equipped with all modern amenities, including an Ayurveda Spa. The luxury tents are inspired by the canopied shelters made for the royals during their caravans. Each tent is temperature-controlled and features a bathroom with private garden views along with a temperature-controlled swimming pool.

Noor Mahal Palace, Karnal

Marvellous palace architecture, intricate decor, hand painted walls and ceilings, spacious lawns and beautiful sights, this place should definitely be on your Gram. Enjoy the outdoors, the spa table, and lounging in your room, equally. For the restless, obsessed with productivity, there are indoor games as well as sports, which includes lawn tennis, basketball, cricket and more. The restaurant's vibe of bringing everyone together for a feast cannot be missed.

Taj Falaknuma Palace, Hyderabad

The place was owned by the Nizams of Hyderabad. This hotel is a perfect definition of luxury offering a breathtaking view of the city and spreads over 32 acres. The rooms and suites are charming beyond words. Enjoy warm hospitality and service that make you feel at home.

Umaid Bhawan Palace, Jodhpur

Stretching over 26 acres, Umaid Bhawan Palace is located on the highest point in Jodhpur, Rajasthan. It features 347 rooms and was built between 1928 and 1943. Currently, it also serves as the residence of the former royal family of the city. The architecture of the palace is a mix of Classical Revival, Indo-Saracenic and Western Art Deco. Highly influenced by the Renaissance and Rajput heritage, this palace is a paradise for every history aficionado.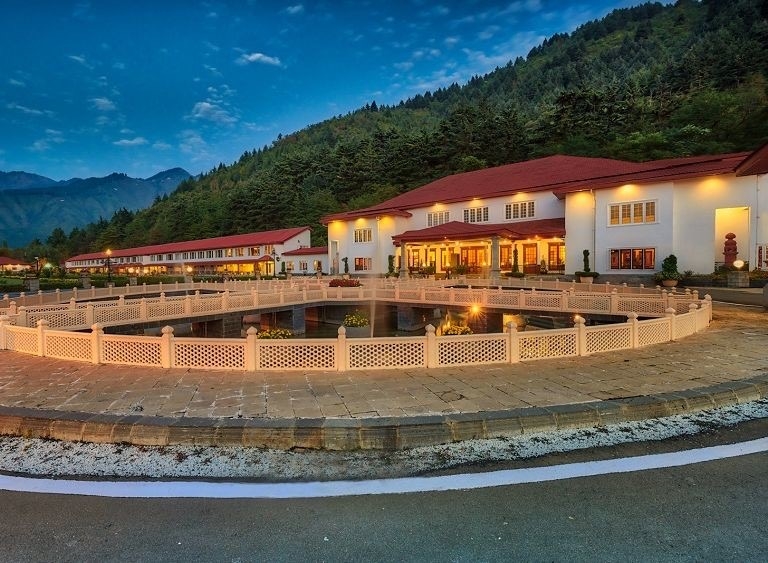 Kumarakom Lake Resort, Kerala

A 16th-century traditional Kerala home structure, smack in the middle of the awe-inspiring backwaters, is a part of nature's mystique in God's Own Country. The property is world-recognised for its uber-luxurious yet traditional accommodation well-equipped with modern amenities and the open-roof bath creates the perfect place for guests to have an exquisite experience. Visitors can also avail some of the best Ayurvedic treatments and wellness packages specially curated for the mind, body and soul, during their stay.

Sparsa resort, Kanyakumari

Undoubtedly one of the best luxury resorts in Kanyakumari, Conveniently located at a walking distance from the shore, Each room and suite comes with views of blue ocean on the one side and offering tourists a glimpse of the typical quaint town on the other end. Enjoy a game of table tennis or pool, or lounge around the elegantly designed swimming pool and taste some delicious continental and seafood. And to burn away those holiday calories, the hotel has well-equipped gym too for you.

Annai resort and spa, Kanyakumari

A harmony of a defined architecture, spacious lawns, kids play area and tree blue swimming pools. The resort is a collection of luxurious rooms, villas and cottages are aesthetically furnished and beautifully designed to offer you every comfort and luxury. The setting, facilities, spa, cuisine and its whole philosophy is dedicated for your personal wellness in a luxurious environment.