Festival seasons are that time of year during which our health goals tend to take a back seat. Many times, given all the culinary temptations on offer everywhere, even getting back on track after the festival season seems not just difficult but impossible.
To stay on the right track we need to maintain at least a few healthy habits during this period which can be achieved by sticking with simple, healthy recipes. Here's where RAW recipe options for traditional festival dishes are the perfect answer and replacement which will go a long way in ensuring that one does not feel deprived during the festive season! Here are some recipes curated by Chef Joy Mathew, Wellness Chef at Prakriti Shakti.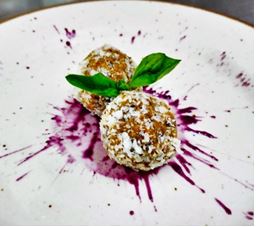 DATE SQUARE
Ingredients:
Date Orange juice Pistachio Almond Cinnamon powder Orange zest
Method:
Soak the dates in orange juice and cinnamon powder for 2 hours.Coarsely blend the nuts in a jar and mix the soaked dates and orange zest and pulse the two times and make in to thick dough.Shape in to a square mould and serve.
ANJEER BURFI
Ingredients:
Dry fig sliced Soft dates chopped Pistachio chopped Cardamom powder Honey
Method:
In blender, add sliced fig and pulse it two to three times.Add chopped soft dates, cardamom powder and pulse the mixture again.Take out the mix and knead well with hand.Shape the mix into squares in a pan and glaze it with honey.Cut and serve in desired size and garnish with pistachio slice.
APRICOT BITES
Ingredients
Dried apricots chopped Dried grated coconut Vanilla powder Raisins chopped
Method:
Add all ingredients in the food processor and blend till it forms "dough".Make gooseberry size balls and rolled it in dried grated coconut.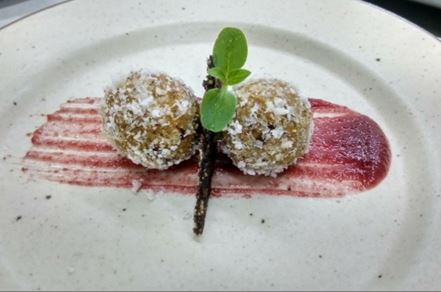 BROWNIE BITE
Ingredients:
Cocoa nibs Almond Walnuts Dates Vanilla Salt
Method:
Powder the cocoa nibs in a blender.Add walnut and vanilla salt and pulse again.Add dates and blend well, don't blend too much it will release the walnut oil.Remove from blender in to bowl.And make small dumplings and roll over little cocoa nibs and serve.
PUMPKIN ENERGY BITES
Ingredients
Pitted soft dates chopped Pumpkin grated Dried grated coconut Walnut chopped Vanilla bean powder Cinnamon powder Nutmeg powder Salt
Method:
Reserve 20 gm grated dry coconut Blend the rest to obtain dough consistencyForm the dough to small ballsCoat the ball the reserved dry coconut and serve
RAW CHOCOLATE BROWNIE
Ingredients for Brownie
Soft dates chopped Peanut powder Walnut coarsely powder Almond powder Cacao powder Vanilla bean powder Salt
Ingredients for Glazing
Honey Water Cacao powder Vanilla powder
Method:
Grind the all nuts separately in a coffee grinder (or food processor) until powder. De-seed and chop the soft dates.Blend all nut powder and walnut coarse in food processor add dates and mix well and make like dough and moulded in a tray.Combine the glaze ingredients in a blender and make in to a smooth sauce that can be poured over the brownie.Cut a square piece and garnished with tender coconut and cashew nuts sauce.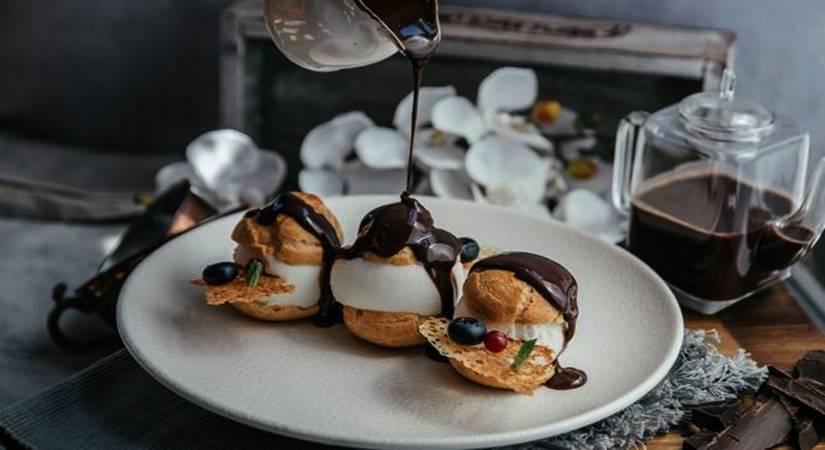 COCONUT WALNUT BAR
Ingredients:
Walnut Almond powder Raisins Dehydrated coconut Fresh grated coconut Cardamom powder
Method:
Blend the raisins in blender in paste form.Add walnut and blend again in to powder form.Change to mixing bowl add rest of the ingredients and mix well.Arrange on tray in to 1 cm height and cut in to diamond shape and serve.
ALSO READ-Wales Celebrates Diwali