This farmhouse combines a thatch roof and rammed earth walls with a form inspired by the historic step-wells of Rajasthan. Rammed earth was sourced on-site and mixed with lime and fenugreek seeds which acted as natural binders…reports Asian Lite News
Architects and designers understand the importance of sustainability, despite Kermit the Frog's claim that "it's not easy being green." Sustainability is a priority for clients, manufacturers, and designers alike, and there is no single sustainable style. Spiro Sepro, an interior and architecture design firm shares a collection of six eco-friendly projects that demonstrate the benefits of going green. These projects show that environmentally conscious designs not only benefit the planet but also have an aesthetically pleasing appearance.
Circle, Goa by Spiro Spero
Circle is designed in a modern and minimal style with a natural and easy aesthetic inspired by the surrounding environment. The resort's interior designers, Keith Menon and Smriti Ahuja from Spiro Spero in Mumbai, used the natural materials of the land to create an undeniable Goan feel. These include a self-sustaining fish pond that attracts different species of birds, a suspended short story library near shaded hammocks, badminton and volleyball sand courts, a bar that uses organic syrups from local produce and herbs from their own greenhouse, and eco-measures such as avoiding single-use plastic and food waste, recycling water and other waste as much as possible, using solar-powered geysers, and composting food waste.
Designer's Den Gurugram
This residence in Gurugram, designed by Sumit Dhawan, founder of Cityspace82, is a zero-maintenance and maximum green area design. This residence, with a footprint of 2,700 sq. ft., has been carefully crafted to optimize natural light and use a wide spectrum of colors, textures, geometry, and natural materials to achieve a sense of comprehensiveness. The project also aims to nurture green urban living and rekindle the relationship with nature in its immediate surroundings by being functionally efficient and aesthetically pleasing. All living spaces are planned towards the front and rear of the plot to open onto balconies with greens to bring in natural light and ventilation, bridge the indoors with the outdoors, and maximize the views.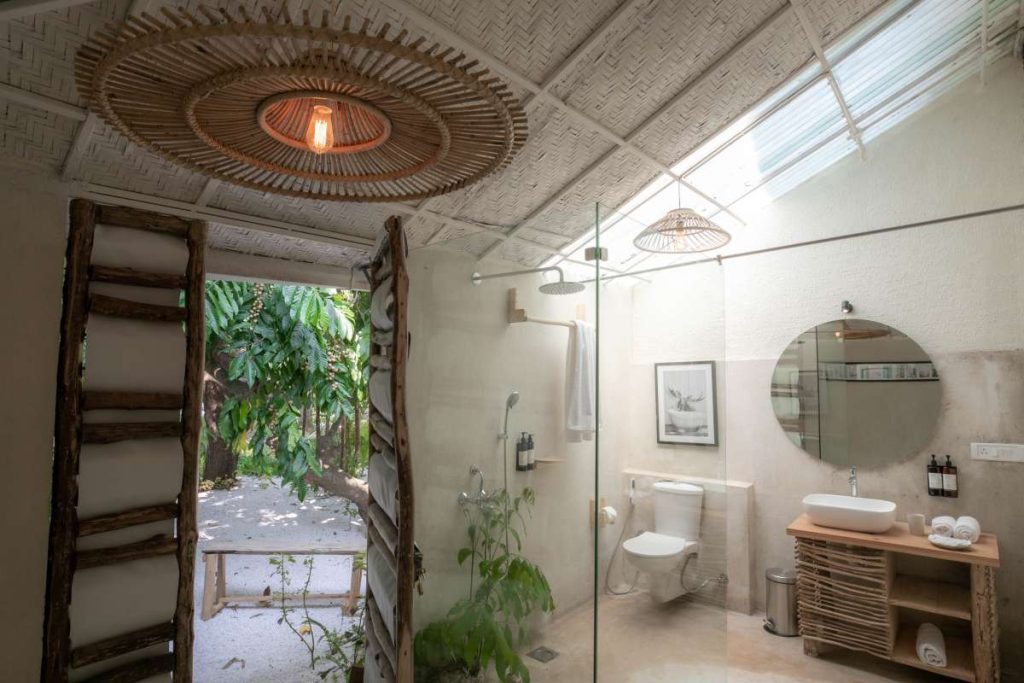 Mud House, Rajasthan, by Sketch Design Studio
This farmhouse combines a thatch roof and rammed earth walls with a form inspired by the historic step-wells of Rajasthan. Rammed earth was sourced on-site and mixed with lime and fenugreek seeds which acted as natural binders.
REC World HQ (Rural Electrification Corporation HQ Gurugram) is a state-of-the-art, iconic bio-climatic building that responds to the effects of climate conditions on the built form to evolve its shape, a Class – A office building of international standards with advanced technologies and life safety provisions. This is an optimal and efficient concrete and steel composite structure with a GRIHA-5 rating mandated by the Government of India, a sustainable structure, and a Net Positive Energy Design. The building's interior and exterior spaces are designed and detailed for the physically challenged throughout the campus, and the glass used by FG Glass is a dual-vision frit that appears white from the outside but black from the inside. The glass is processed with a specialty triple silver low-E coating on the ultra-clear glass. Although these products are not available in the country, we leveraged our experience, and expertise to procure the glass for this project. With a usable FAR of 18820 sq m, 2 levels of underground parking for 600+ cars in a 2016 sq m area, and a third basement dedicated for rainwater harvesting and STP, the total power requirement had to be optimized to the maximum to achieve net zero energy with a 975 kw peak rooftop solar panel installation and a net metering facility on an area of about 8250 sq m.
Bamboo home and community center, Indonesia, by RAW Architecture
RAW Architecture worked directly with local craftspeople to construct the building, using bamboo sourced from local villages, which was then engineered on-site. Various types of bamboo have been integrated into the structures, from the frame to the floor and ceiling finishes, balustrades, window frames, decorative carvings and even door handles.
Stone house, Switzerland, by Wespi de Meuron Romeo Architetti
Wespi de Meuron Romeo Architetti uses local stone and plaster for a lakeside house in Switzerland. Variously sized openings across this house's traditional stone and plaster facades in the Swiss town of Ascona provide views of the garden and Lake Maggi.
ALSO READ-Art of Islamic and Indian worlds