If you feel like escaping the pollution or just spending quality time with the family, we've curated a list of getaways you can visit over the Diwali holidays.
Aman-i-Khas, Rajasthan
A serene camp on the outskirts of Ranthambore National Park, Aman-i-Khás is a nature-ensconced paradise in which to create unforgettable seasonal memories with those you love. Early mornings on safari spotting India's elusive tigers segue into relaxed timeout beside the sun-dappled stepwell swimming pool and star-canopied evenings around the fire.
The seasonal calendar provides unique cultural and gastronomic experiences in between.
12th November – The camp will come alive with the warm glow of hundreds of handcrafted candles, or diyas, illuminating the walls, pathways and gardens. This display symbolises Diwali's essence: the dispelling of darkness (evil) with light (good). The diyas, crafted in-house, serve as a welcoming beacon for Goddess Lakshmi. Join in the Puja offering ceremony dedicated to Goddess Lakshmi, beginning at 6.45pm. During this time, welcome the Goddess into Aman-i-Khás, seeking her blessings for the coming year. Following the Puja, indulge in traditional Diwali offerings of sweets and almond milk, followed by a special Diwali menu prepared by Chef Santosh and his team.
The men will be seen in traditional white Rajasthani kurtas (long, loose shirts) and turbans. Women will adorn themselves in ghagras (long pleated skirts) and lugdis/odhnis, veils worn over button-up shirts during the festivities.
Diwali Menu highlights (Indian) –
Soups – Yakhni Shorba, Lamb Broth
Veg/Non-veg Kebab platters consisting of Kalonji Paneer, Mutton Galotti, Rajma ki Galotti, Angara Murgh Tikka
Mains – Chuza Changezi, Gucchi Ghost, Paneer Handi, Dal Bukhara
Dessert – Badam Halwa, Omali, Kunafa
Diwali Menu highlights (Western) – Garden grown Herb Salad, Risotto Milanese, New Zealand Grilled Lamb Rack, Chermoula Spice Pan Seared Seabass.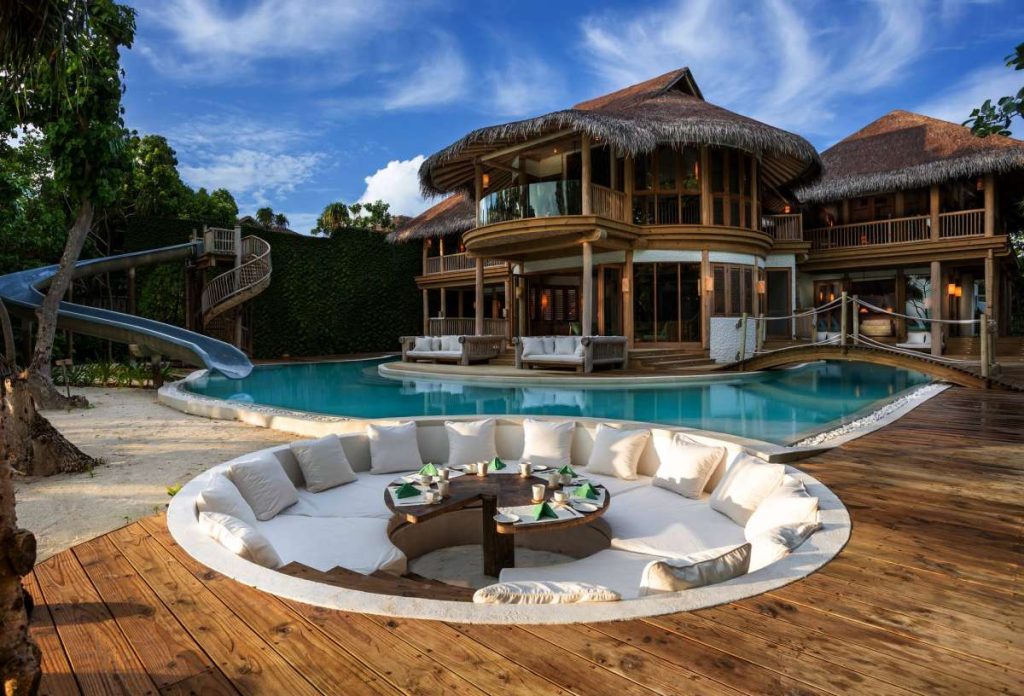 Soneva Fushi and Soneva Jani, Maldives
Enjoy a dazzling Diwali at the award-winning Maldives resorts. With both Soneva Fushi and Soneva Jani easily accessed from India's main travel hubs, reconnect with family and friends and rediscover the Slow Life, surrounded by the beauty of nature. The holiday line-up is designed to delight all ages: unforgettable dining that celebrates India's rich culinary heritage; acclaimed visiting chefs to tempt your tastebuds; fun-packed festivities at The Den; and the chance to unwind with daily yoga and sessions with world-renowned wellness specialists at Soneva Soul.
The Soneva Stars programme celebrates the diverse array of guest activities and experiences on offer, ranging from Michelin-starred chefs to sporting legends and acclaimed therapists.
Culinary – Michelin-starred Spanish chef and restaurateur – Maria Jose San Roman
Sports – Master fitness trainer Jonathan Owen and Tennis sensation Daniil Medvedev
Relaxation – Therapeutic and beauty masseur and physical trainer, Eduardo Sierra specialises in musculoskeletal pain prevention and relief
Website: https://soneva.com/
Amankora, Bhutan
Celebrate the festive season in Bhutan, where Aman's myth, magic and mystique gently inhabit five of the Kingdom's magnificent valleys. Sustainability rests at the heart of every Amankora initiative, and this season's programme is inspired by Bhutan's natural wealth and rich cultural heritage.
Stay 7 nights or more across Amankora lodges this Diwali and experience an all-encompassing programme of family-friendly experiences – from guided temple tours and forest picnics to hiking mountains.
Website: https://www.aman.com/resorts/amankora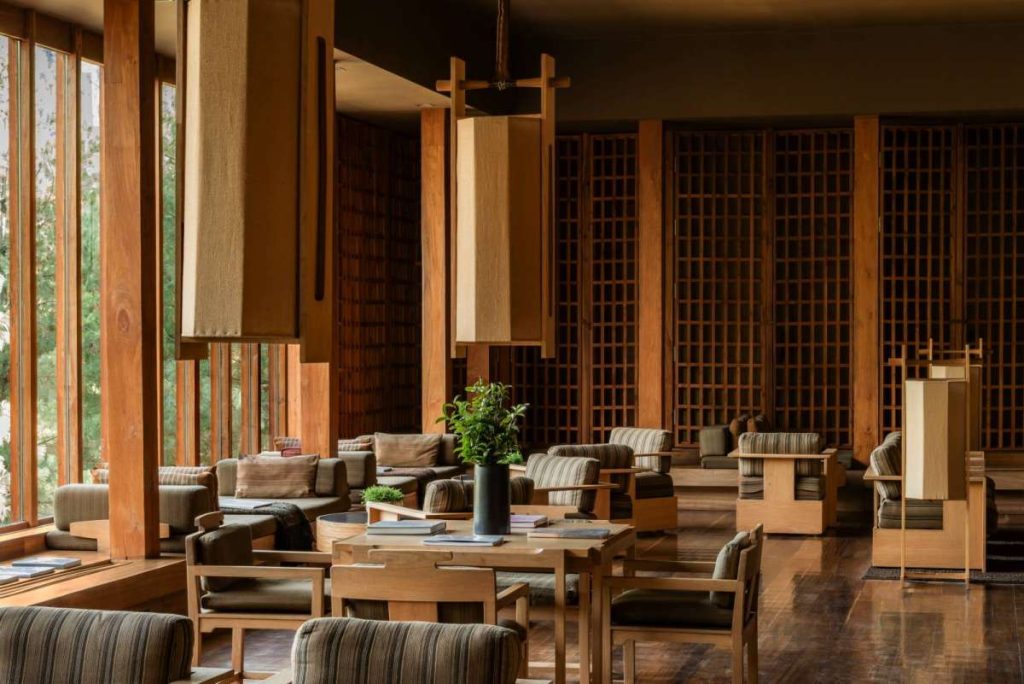 Aman Sri Lanka
A fitting destination for those looking to balance time by the water with authentic travel experiences, Sri Lanka's sundrenched south shores are home to two distinct Aman properties. The undisputed queen of the coastline is the quaint town of Galle, home to Amangalla, while just over an hour's drive east, Amanwella provides a contemporary retreat with its own palm-fringed beach close to the picturesque village of Tangalle.
Amangalla – Resting on tree-lined Church Street, Amangalla's historic setting has warmly welcomed guests since 1683 as part of what was then the New Oriental Hotel. Offering views of Galle Fort and the harbour on one side and the hotel's pristine gardens and swimming pool on the other, lofty-ceilinged suites exude a sense of place and interconnecting rooms make it a haven for families exploring the area. Exquisite Sri Lankan and international cuisine can be savoured al fresco on the veranda or in the elegant Dining Room, while the atmospheric spa, The Baths, houses hydrotherapy facilities and a yoga pavilion.
Website: https://www.aman.com/resorts/amangalla
Amanwella – Down on the sand, the Beach Club offers laidback dining, complimented by an open-air yoga deck – where new family yoga sessions provide an interactive way to reconnect and find a place considered calm. Amanwella boasts a range of breaks and private surfing lessons for all abilities. Also on the water, fishing in the Indian Ocean makes for the most rewarding of experiences. Departing Amanwella, at dawn, Wasantha, a local fisherman, teaches the traditional handline method of fishing on an invigorating three-hour boat trip, before Amanwella's chefs prepare the day's catch for lunch or dinner.
Website: https://www.aman.com/resorts/amanwella
Soneva Kiri, Thailand
Soneva Kiri is where unparalleled luxury meets sustainable design, rare experiences and exquisite culinary concepts. Just 90 minutes from Bangkok, discover an unspoiled island with some of Thailand's finest beaches.
Magical experiences are designed to create unforgettable experiences. Guests can explore the constellations with the resident astronomer at Observatory, or watch a classic movie at the Cinema Paradiso that floats above a jungle lagoon. Join the marine team to dive or snorkel around submerged statues and thriving corals, discover some of Thailand's best beaches, sample authentic local cuisine at Kruaa Mae Tuk, or dine high among the treetops in a once-in-a-lifetime Treetop Dining experience.
Website: https://soneva.com/resorts/soneva-kiri/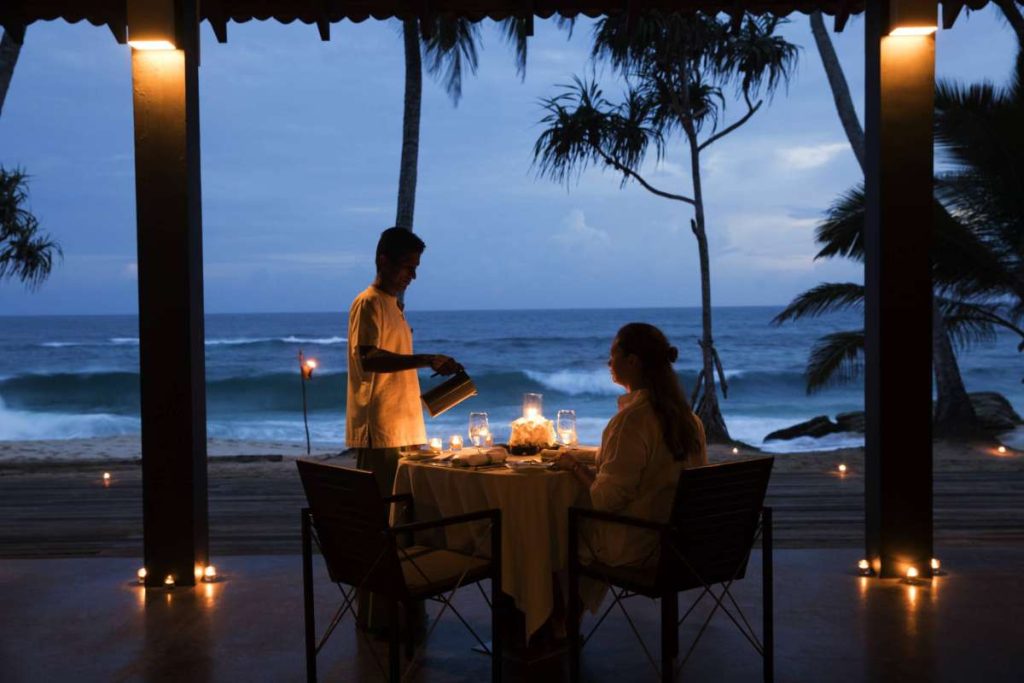 Amanoi, Vietnam
Perched on a private stretch of Vietnam's dramatic coastline with unrivalled beach, bay and national park access, Amanoi is the ideal setting for an unforgettable family getaway this festive season. Full of active adventures and imbued with local flavours and the Cham's rich cultural heritage, the resort's seasonal calendar has been curated to inspire and delight guests of all ages.
Festive feasting takes centre stage with themed dinners, blind tastings, cooking masterclasses and more, while guided hikes in Nui Chua National Park, a sunset Cham blessing ceremony and daily complimentary wellness classes set the tone for a healthy, prosperous year ahead.
Website link for Amanoi: https://www.aman.com/resorts/amanoi
ALSO READ-Wales Celebrates Diwali