An actor, singer, RJ and reality show host, Faria stresses that she thinks of herself as an entertainer and enjoys everything to do with the arts. "Going with the flow is my thing," she says…reports writes Sukant Deepak
Believing that Bengali is one of the world's most beautiful and revered languages, Bangladeshi actor Nusraat Faria says that Indo-Bangla partnership is important for putting the language on the world map.

"We live in the time of globalisation. This is an era when geographical boundaries are redundant. The two nations must keep collaborating in the field of cinema. I have had the privilege of working in nine Indo-Bangla productions, and the experience has been unforgettable," she asserts.

Faria will be seen in Shyam Benegal's 'Bongobondhu', in which she essays the role of Sheikh Hasina, Bangladesh's Prime Minister.

An actor, singer, RJ and reality show host, Faria stresses that she thinks of herself as an entertainer and enjoys everything to do with the arts. "Going with the flow is my thing," she says.

All praise for new age Bangladeshi directors, the actor asserts they boast of fresh perspectives, bring forth novel concepts, and a peculiar technical style. "Best part is, they have the right attitude and know what to do. Take the Bangladeshi Hoichoi platform that produces excellent television shows and films. This gives us the opportunity to be proud of ourselves and gives Bangladeshi cinema a critical boost at this crucial juncture."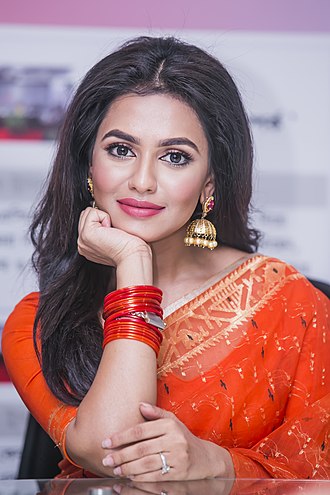 Faria, whose single, SVF Music's 'Bujhina Toh Tai' with Mumzy Stranger was released on Eid says she has high expectations from the single. For someone who has already released several singles with SVF — 'Pataka', 'Ami Chai Thakte' and 'Habibi', she adds, "It is a significant role, and as a producer, I like the way they have approached it from my perspective. I have given my best to the latest song and set the bar high."

Someone who frequently works in Kolkata and not just Indo-Bangla productions, Faria says she has a busy year ahead with upcoming films like 'Abar Bibaho Obhijaan' and 'Patalghor'.

Not really missing formal education in acting, for Faria, personal experiences go a long way in acquainting oneself with the craft. "The best education is encountered on the path of self-learning. I may not be the best, but I am improving, and learning every day from my co-stars, directors and instincts," she concludes.
ALSO READ-'Wherever I go in the world, I am an Indian first'