'Namaste Mickey' is conceptualised by Mukherjee and hand painted by the Sabyasachi Art Foundation…reports Asian Lite News
India's leading fashion designer Sabyasachi Mukherjee has unveiled an art piece that pays tribute to the iconic and beloved Mickey Mouse, as part of Create 100.
Create 100 is a global celebration of creativity marking 100 years of Disney storytelling. Inspired by their personal connection to stories and characters across Disney, Pixar, Marvel, Star Wars, and 20th Century, Create 100 sees some of the world's most renowned creative visionaries and next-generation talent across fashion, music, art and more who donating artworks, items, and experiences to benefit Make-A-Wish®.
Mukherjee is celebrated for his distinctly modern take on traditional Indian clothing. The ace Indian fashion designer from Calcutta joins a collective of some of the world's most esteemed creative legends who are coming together to benefit Make-A-Wish®.
Here is a look at the creator and the story behind his artwork:
Namaste Mickey
'Namaste Mickey' is conceptualised by Mukherjee and hand painted by the Sabyasachi Art Foundation. The painting is made using earth colours in Tempera and digitally transferred onto handwoven cotton and embroidered using multi-media techniques. It's appliqued and collaged with hand-embroidered textiles and metal detailing from the ateliers of Sabyasachi. The artwork is framed with embroidered textiles on hard oak wood.
Said Sabyasachi, "I was born in 1974, a time devoid of the internet where television was the sole medium of entertainment. I used to eagerly rush home to catch episodes of Disney's Mickey Mouse and Donald Duck. It fills me with immense excitement to be part of Create 100, representing India alongside so many talented creators. I'm so happy to be collaborating with Disney which has brought boundless joy to audiences worldwide for a century."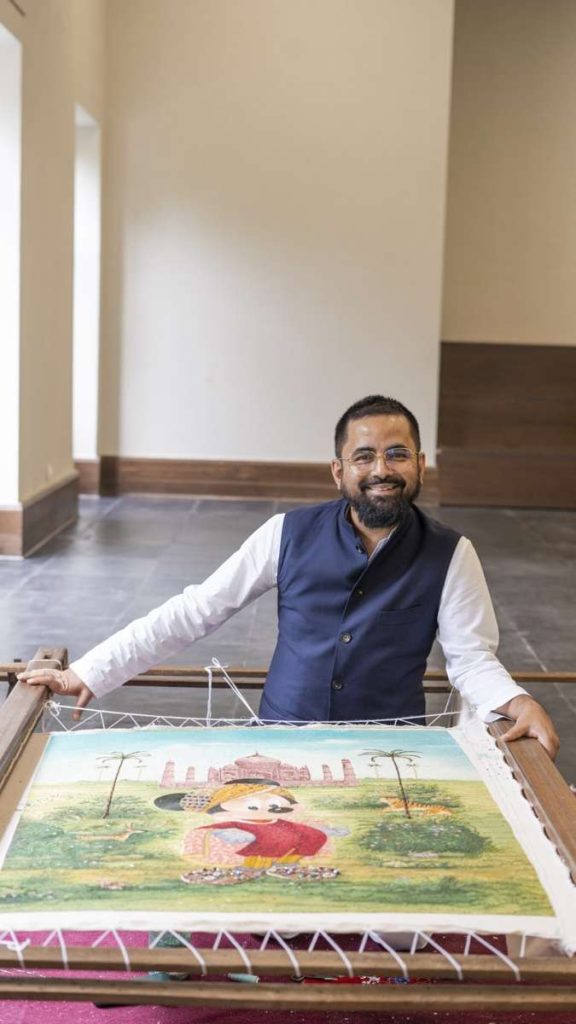 Speaking about the inspiration behind his artwork, he added, "My creation, known as 'Namaste Mickey,' draws inspiration from India's rich tapestry of traditional and miniature paintings. Crafted by the Sabyasachi Art Foundation, it begins with a digital print on handmade canvas, then adorned with the age-old, intricate embroidery techniques of India. This has resulted in a contemporary collector's piece. In the artwork, Mickey Mouse dons traditional Indian attire and jewellery, set against the backdrop of the iconic Taj Mahal, surrounded by India's captivating flora and fauna. This rendition weaves together the mystique of both East and West, creating a truly magical interpretation of the most beloved character, Mickey Mouse.
"As I represent India, I want to take the opportunity to encourage everyone in the creative industry to continue to inspire and be inspired, and be part of positive changes around the world."