Prime Minister Rishi Sunak's plan to rehabilitate known 'India-baiter & India-hater' Suella Braverman draws flak from various quarters. Braverman's reappointment has doused the initial euphoria in India over Sunak's rise as PM with his recent move drawing sharp reactions
Prime Minister Rishi Sunak kicked off a row by reappointing Indian-origin Suella Braverman as Home Secretary, just days after she quit over a technical breach of government rules. The move is also likely to annoy the Indian government.
Braverman – an outspoken critic of former PM Liz Truss's economic policy – stepped down last week after breaching email security rules. In her resignation letter, she also raised concerns about the direction of Truss's government.
Shadow Home Secretary Yvette Cooper tweeted: At noon Rishi Sunak promised "integrity, professionalism & accountability." At 5pm he made Suella Braverman Home Secretary, 1wk after she resigned for Ministerial Code breach/security lapse He put party before country. Security is too important for this irresponsible Tory chaos. How on earth is this the "integrity & professionalism" he promised just five hours before?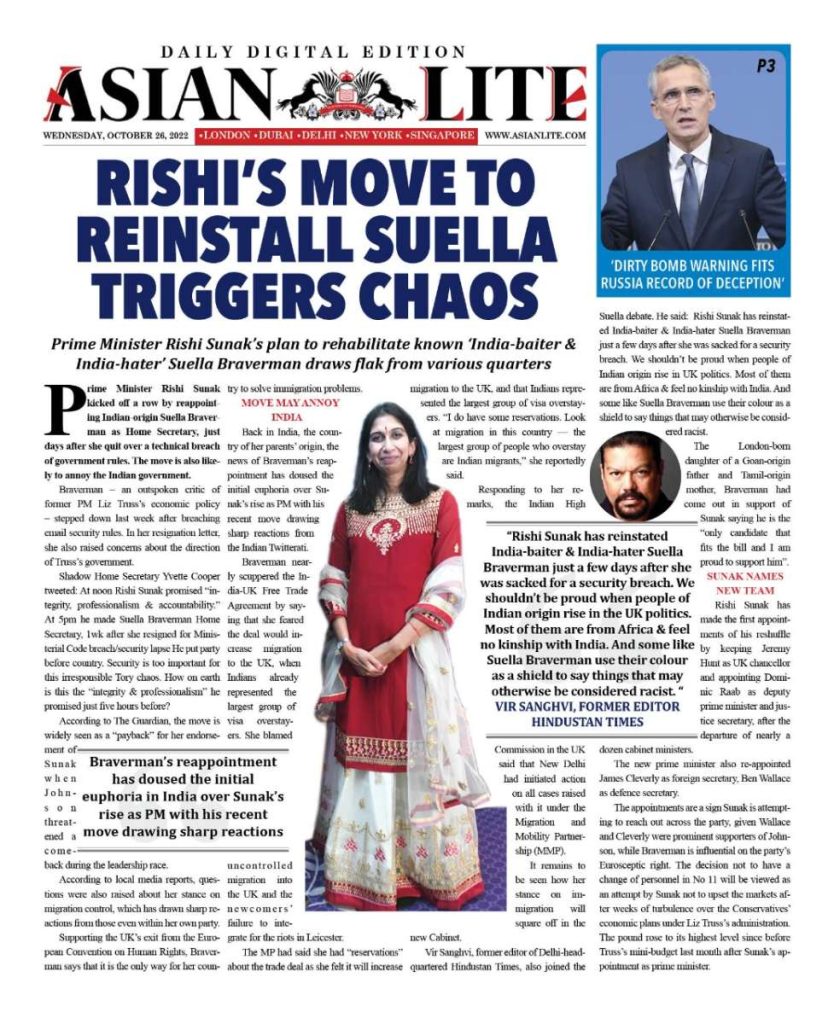 According to The Guardian, the move is widely seen as a "payback" for her endorsement of Sunak when Johnson threatened a comeback during the leadership race.
According to local media reports, questions were also raised about her stance on migration control, which has drawn sharp reactions from those even within her own party.
Supporting the UK's exit from the European Convention on Human Rights, Braverman says that it is the only way for her country to solve immigration problems.
xxx
Move may annoy India
XXX
Back in India, the country of her parents' origin, the news of Braverman's reappointment has doused the initial euphoria over Sunak's rise as PM with his recent move drawing sharp reactions from the Indian Twitterati.
Braverman nearly scuppered the India-UK Free Trade Agreement by saying that she feared the deal would increase migration to the UK, when Indians already represented the largest group of visa overstayers. She blamed uncontrolled migration into the UK and the newcomers' failure to integrate for the riots in Leicester.
The MP had said she had "reservations" about the trade deal as she felt it will increase migration to the UK, and that Indians represented the largest group of visa overstayers. "I do have some reservations. Look at migration in this country — the largest group of people who overstay are Indian migrants," she reportedly said.
Responding to her remarks, the Indian High Commission in the UK said that New Delhi had initiated action on all cases raised with it under the Migration and Mobility Partnership (MMP).
It remains to be seen how her stance on immigration will square off in the new Cabinet.
Vir Sanghvi, former editor of Delhi-headquartered Hindustan Times, also joined the Suella debate.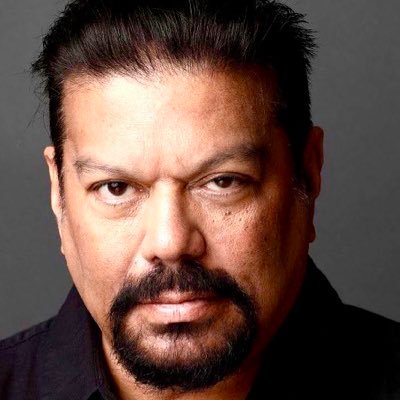 He said: Rishi Sunak has reinstated India-baiter & India-hater Suella Braverman just a few days after she was sacked for a security breach. We shouldn't be proud when people of Indian origin rise in UK politics. Most of them are from Africa & feel no kinship with India. And some like Suella Braverman use their colour as a shield to say things that may otherwise be considered racist.
The London-born daughter of a Goan-origin father and Tamil-origin mother, Braverman had come out in support of Sunak saying he is the "only candidate that fits the bill and I am proud to support him".
XXXX
Sunak names new team
XXX
Rishi Sunak has made the first appointments of his reshuffle by keeping Jeremy Hunt as UK chancellor and appointing Dominic Raab as deputy prime minister and justice secretary, after the departure of nearly a dozen cabinet ministers.
The new prime minister also re-appointed James Cleverly as foreign secretary, Ben Wallace as defence secretary.
The appointments are a sign Sunak is attempting to reach out across the party, given Wallace and Cleverly were prominent supporters of Johnson, while Braverman is influential on the party's Eurosceptic right.
The decision not to have a change of personnel in No 11 will be viewed as an attempt by Sunak not to upset the markets after weeks of turbulence over the Conservatives' economic plans under Liz Truss's administration.
The pound rose to its highest level since before Truss's mini-budget last month after Sunak's appointment as prime minister.
Raab returns to the roles he held under Johnson, as deputy prime minister and justice secretary.
Simon Hart, another cabinet minister from the Johnson era, has been brought back in to restore party discipline as chief whip.
Sunak also appointed Nadhim Zahawi, another key Johnson supporter, as party chairman, and his own key ally, Oliver Dowden, as chancellor of the Duchy of Lancaster — a problem-solving role in the Cabinet Office.
Grant Shapps, the former transport secretary who filled in as home secretary for less than a week, is moving to be business secretary.
Several senior figures quit the government on Tuesday, with Jacob Rees Mogg stepping down as business secretary and Brandon Lewis resigning as justice secretary.
Sunak sacked Chloe Smith as work and pensions secretary and the under-fire Wendy Morton as chief whip.