UAE-Germany cooperation is a key catalyst for accelerating the energy transition, not only by facilitating the scaling up of the green hydrogen production…reports Asian Lite News
As growing bilateral trade figures showing the strength of the Germany-UAE relationship, cooperation in decarbonisation to tackle climate change opens an opportunity for both countries to look forward to a hydrogen future, a top German diplomat said.
"The UAE is Germany's most important trading partner in the region, with German exports to the UAE totalling US$8.4 billion [AED30.83 billion] in 2021. And for the year 2022 [first 9 months], Germany's imports from the UAE increased 67 percent year-on-year, already reaching US$1.3 billion [AED 4.77 billion]," revealed the new German Ambassador to the UAE, Alexander Schönfelder.
In an interview with state news agency WAM at the German Embassy in Abu Dhabi, he added, "So, I think those trade figures show exactly what the strength of our relationship is. In addition to that, I think there is also an enormous prospect for economic relations when we talk about tackling climate change and supporting economic growth in the area of decarbonisation and making both our economies fit for the hydrogen future that we are looking for."
Hydrogen value chain
Establishing international hydrogen value chain is very important for both economies, he said. "This is the basis for the decarbonisation of the energy sector, and it is also part of what we have to achieve according to the Paris climate accords."
UAE-Germany cooperation is a key catalyst for accelerating the energy transition, not only by facilitating the scaling up of the green hydrogen production that both countries agreed upon, but also for the conditions for a large-scale export of green hydrogen from the UAE to Germany and Europe, explained Schönfelder.
"We see the UAE as a country with a very good capacity to become a key exporter of renewable energy to the world, and this is exactly where Germany and other European countries would like to contribute to."
The ambassador said this while talking about the arrival of the first-ever hydrogen-based ammonia test cargo from the UAE to Germany for Aurubis AG (Aurubis) in Hamburg in October 2022. As a major copper producer, Aurubis is using the blue ammonia supplied by Abu Dhabi National Oil Company (ADNOC) for the climate-neutral conversion of energy-intensive copper rod production using low-emission ammonia.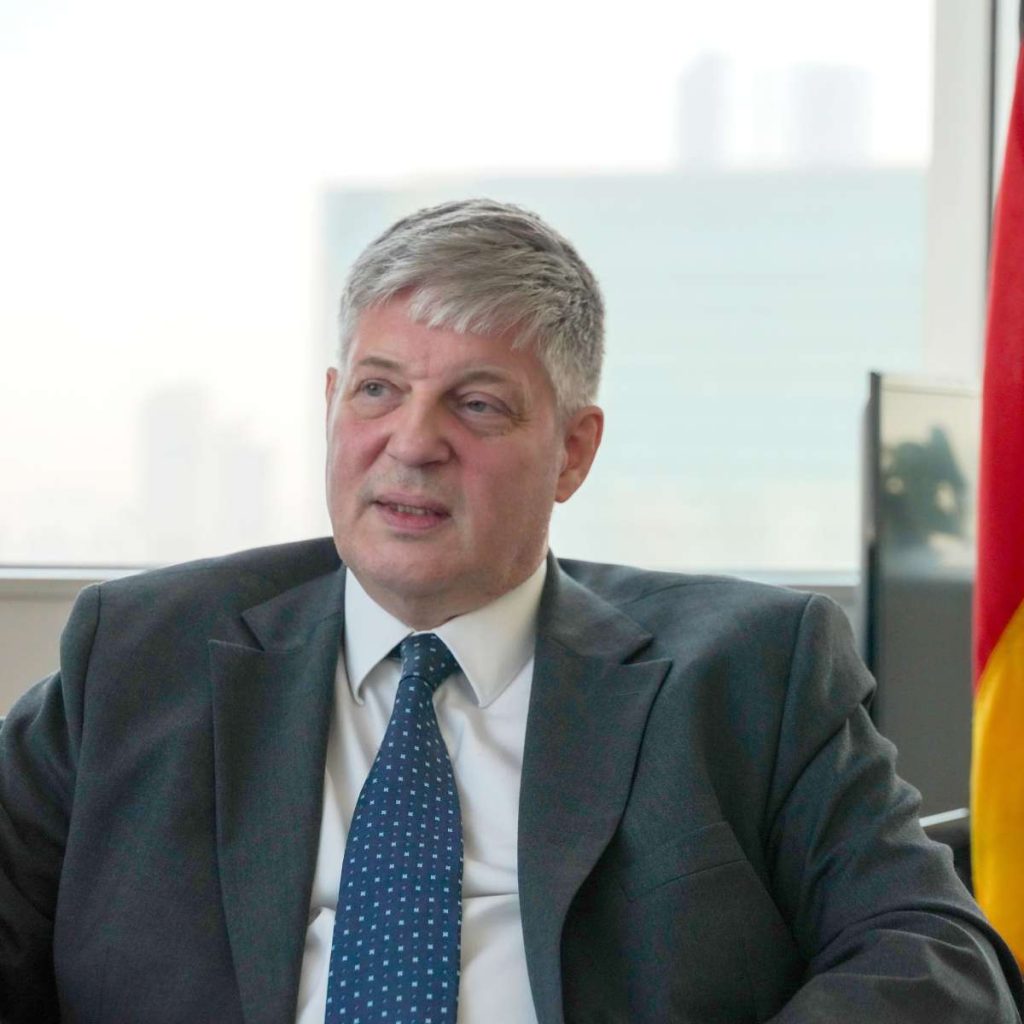 Climate goals
As WAM reported, the test delivery from the UAE is an important step in the establishment of a comprehensive hydrogen value chain between the UAE and Germany. Further ammonia test cargoes are due to arrive in Germany later this year and will play an important role in building a future hydrogen supply chain between both countries.
This initiative, the ambassador said, "also plays an important role in preparing ports in Germany for a better future in hydrogen imports. So, it is something we both benefit from."
Talking about the Energy Security and Industry Accelerator (ESIA) agreement, signed in Abu Dhabi on 25th September during the visit of German Chancellor Olaf Scholz, the envoy said it is a joint energy and industry effort to promote projects with political support.
About the Ministry of Energy and Infrastructure (MoEI) signing an agreement with GHD Group, in partnership with the Germany-based Fraunhofer–Gesellschaft, to develop the UAE's National Hydrogen Strategy, Schönfelder said it is focused on achieving climate goals, which further strengthens German-UAE ties in this area.