Algerian kids taste Zongzi as token of cross-continental friendship
"Nihao!" "Bonjour!", more than 20 Chinese and Algerian preschoolers shouted out to each other via video links, celebrating the Chinese Dragon Boat Festival with fun activities such as making Zongzi, a sticky rice dumpling, and singing songs.
The event, recently held by Chinese and local Algerian employees of the China State Construction Engineering Corporation (CSCEC), also celebrated International Children's Day fell on Wednesday.
When the Algerian children sang Frere Jacques, a popular French nursery song, the familiar melody undoubtedly caught the attention of the Chinese kids on the other side of the camera, for it was sung across Chinese households as the nursery rhyme Two Tigers.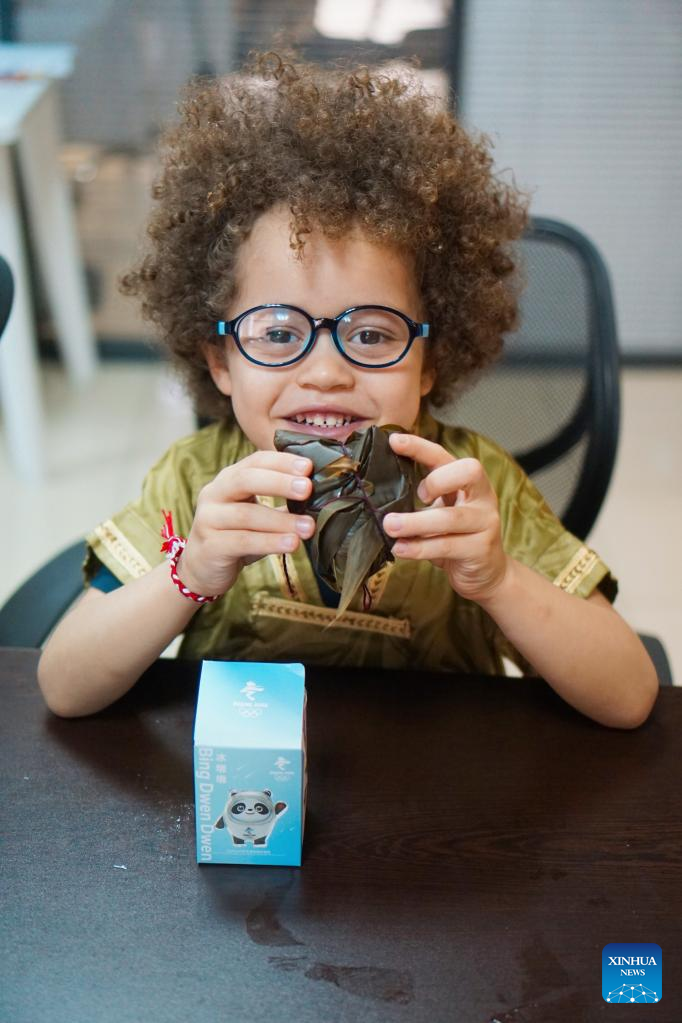 Wearing traditional costumes of their respective countries, the children learned about each other's language, the origin and customs of the Dragon Boat Festival, and did forehead-painting and color rope knitting.
For many Algerian kids, Zongzi, the glutinous rice dumplings wrapped in bamboo or reeds, was the yummiest part of the party, though it easily went sticky to prepare and cook.
Behind the idea of a cross-continent party is Beibei, a 5-year-old Chinese girl's wish to send out a panda toy to the Algerian children, whom she used to hear of from her mother but has never got a chance to meet.
Beibei was told by her mother Li Pingyan, freshly return from Algeria, that the kids in the remote North African country "have big eyes, often eat couscous and especially like football."
"I want to give them a Bing Dwen Dwen," said Beibei, speaking of a panda mascot of the Beijing 2022 Winter Olympics which styles an ice-made sports helmet and went viral in China during the games in February.
Her yearning inspired Li to contact her Algerian colleagues. Luckily, Hamriche Amina, an accountant at CSCEC Algeria for five years, said her son Badis and daughter Idris were also curious about what their Chinese friends look like.
ALSO READ: UAE education system gets a revamp
"I like Bing Dwen Dwen and the painting that Beibei gave me. There are bridges, national flags, and both of us in the painting!" Idris said while holding a Bing Dwen Dwen toy and Beibei's painting as gifts.
Ouaheb Mohamed, who accompanied his 4-year-old daughter Melina to the event, said his daughter is very willing to learn about Chinese festival culture and make Chinese friends. "She thinks that China's national flag is very beautiful. Most importantly, I am so happy to share this very beautiful moment with my daughter."
For Bardis, 6, what he got in the event is not just a Bing Dwen Dwen, but also special holiday memory and "Zongzi friendship" from China.
"Welcome to Algeria," he exclaimed, saying he is already looking forward to meeting new Chinese friends face to face.