Citi joins the USA Pavilion in celebrating "Life, Liberty and the Pursuit of the Future."…reports Asian Lite News
Citi announced today that it has signed on as an official sponsor of the USA Pavilion at Expo 2020 Dubai, occurring from October 1 until March 31, 2022. The Citi Rocket Stage at the pavilion will be a platform for American innovation, technology, and progress.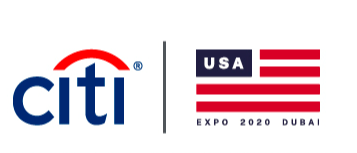 Citi will launch the Rocket Garden Stage at the USA Pavilion, a showcase of its longstanding mission to enable growth and progress in the world. The stage will support American performers as they dazzle global audiences at the largest cultural gathering of the year.
Located next to the iconic SpaceX Falcon 9 rocket replica, the third largest structure at Expo 2020, the Citi Rocket Garden Stage will amplify a common vision of progress, mobility, and sustainability. "Enabling progress has been Citi's mission for over two centuries. As a global bank, connecting millions of people across hundreds of countries and cities, we are thrilled to be part of Expo 2020 Dubai with the USA Pavilion and contribute to shaping the future and building a better world," said Elissar Farah Antonios, CEO of Citi UAE and MENA Cluster Head. "Citi's partnership with the USA Pavilion is an opportunity to highlight innovative and forward-thinking American companies that are driving the future at the world's largest gathering in Dubai."
ROBERT CLARK, USA PAVILION COMMISSIONER GENERAL: "The partnership between the USA Pavilion and its partners, including Citi, demonstrates the support of American businesses for the USA Pavilion at Expo 2020 Dubai. The USA Pavilion provides an opportunity for businesses to showcase brands, products, and services, while creating opportunities for expansion into new markets. We are grateful for Citi's generous support in helping to make the USA Pavilion's Citi Rocket Garden Stage possible.  The USA Pavilion will host many American cultural acts on this stage."
Citi has had a unique presence in the UAE market since 1964 and continues to present significant opportunities for clients in corporate finance, trade finance, investment banking and wealth management across various client segments (Local Corporates, Public Sector including Sovereign Wealth Funds, Multinationals, Financial Institutions, High Net Worth and Affluent Clients).
ALSO READ: 'Expo provides global platform to share insights, perspectives'
Equally, the UAE serves as a regional hub for Citi's EMEA Emerging Markets cluster and as one of the four Citi Wealth Management Centers in the World. Citi's global ambitions across the wealth space were underlined earlier this year, with set out plans to triple assets under management to $15 billion in the UAE only.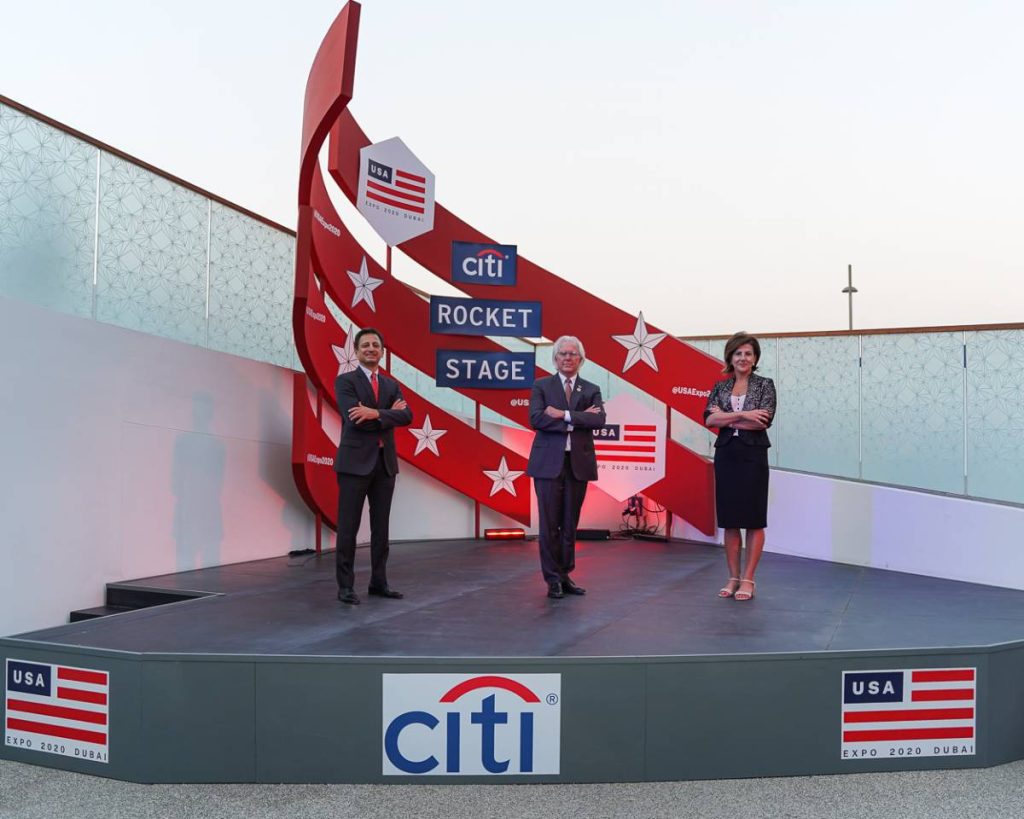 "We are the Official Financial Institution Partner of the USA Pavilion. With our digital platforms, research capabilities and talent pool, we remain a top provider of integrated banking services in the country. We're looking forward to sharing our vision and showcasing our enhanced brand visibility at Expo 2020 Dubai to millions of expected visitors," said Dinesh Sharma, Citi Middle East Head of Consumer Banking.
At Expo 2020 Dubai, the United States of America celebrates "Life, Liberty, and the Pursuit of the Future." This powerful theme reflects America's commitment to promoting prosperity, opportunity, and innovation globally and domestically.
In 2021, Citi made a major announcement of $1 trillion to sustainable finance by 2030, extending its current environmental finance target from $250 billion by 2025 to $500 billion by 2030. Additionally, Citi laid out last March a bold commitment to accelerate its net zero emissions by 2050.